As an Amazon Associate, I get commissions for purchases made through links in this post. No extra cost to you.
In 1991 Dyson Limited was established by James Dyson in the UK. Which now become one of the best British technology companies and they produce and supply various kinds of vacuum cleaners, hand dryers, bladeless fans, air purifiers, heaters and many more.
Dyson Limited, a British technology firm was founded in 1991 in the United Kingdom. Vacuum cleaners, hand dryers, hairdryers, bladeless fans, air purifiers, heaters, and lighting are among the products it produces and supplies.
Dyson established a collaborative robotics lab with Imperial College London in 2014 to research vision systems and develop a new generation of domestic robots. Slowly they modified their vacuum cleaners and ungraded the features to be on the top of the industry.
Related Comparison Guides:
Dyson DC59 vs V6
Dyson DC 59 Animal Review
Specifications:
Suction Power: 28/100 a/w
Bin Holding Capacity: 0.12 gal
Weight: 4.6 pound
Run Time (Regularly): 26 minutes (6 min on boost)
Charging Time: 3h30m
Warranty: 2 years
This vacuum cleaner not only cleans around the sofa cushions to clean the crumbs or minor dirt. But it also the entire house which was once the function of bulky vacuum cleaners.
This vacuum is designed for cleaning from floor to ceiling. Dyson DC 59 contains removable wand and cleaning devices for the top, bottom, and in-between. For difficult operations, a small motorized tool is also provided. It eliminates dirt and hair embedded in upholstery and narrow areas.
Features At A Glance:
It only weighs a little more than 2kg, making it suitable for cleaning nearly any room in the house.
DC 59 is driven by a Dyson digital motor V6 and features two-layer radial cyclones, thus it provides the same suction as some of Dyson's bigger vacuum cleaners. Because it spins up to 110,000 times per minute, which is quicker than traditional motors, that little motor is the key to everything.
You can increase the suction power by pressing the 'max' button. But it will drain the charge of the battery.
It will take many hours to fully charge the battery, so these need to be utilized these power draining gadgets cautiously.
What I Like:
For a cordless handheld vacuum, it's rather powerful.
Lightweight.
Its floor cleaning head transforms it into an upright vacuum.
There are several accessories.
Ideal for use on floors and in corners.
What I Don't Like:
Expensive.

Battery life is short.
Differences Between Dyson DC 59 Motorhead & Animal

Weigh: The DC 59 Motorhead is 4.9 pounds whereas the DC 59 Animal is 4.6 pounds.
Cleaning Duration: The DC 59 Motorhead cleans for 24 minutes, whereas the Animal cleans for 26 minutes.
Cleaner Head: The brush bar of the DC 59 Motorhead has an immediate motor that produces 75 percent more power than the DC 59 Animal. As a result, it may be a better option for cleaning rugs and carpet padding.
Color: Motorhead has pink and silver colors available. On the other hand, Animal has purple and silver colors available.
Price: DC 59 Motorhead is pricier than DC 59 Animal by $50. On the Dyson website, Motorhead costs under 550 whereas, Animal costs under 500.
Dyson V6 Animal Cordless Vacuum Review
Specifications:
Suction Power: 100w
Bin Holding Capacity: 0.4 liter
Weight: 5 pound
Run Time (Regularly): 20 minutes
Charging Time: 3h30m
Warranty: 2 years
Followed by Dyson DC34, the Dyson V6 is designed to deliver a similar cleaning efficiency as Dyson's bigger vacuum cleaners in a tiny, mobile, and wireless form. It has a 20-minute standby time and is lightweight enough to be used single-handedly by most individuals.
Features At A Glance:
The power button is one of the most important. Instead of a simple on/off switch, Dyson V6 features a power button that must be held down to assist increase the battery's useful life.
Dyson V6 is light and easy on the wrist and back, weighing only two kilograms. Because of how uniformly its 2kg weight is spread, it's easy to angle it to the ceiling or reach narrow spots with minimum effort. It's a machine that's nicely balanced.
What I Like:
Highly versatile
Lightweight and can be easily used one-handedly
Functions as effectively as chorded models
What I Don't Like:
Dust capacity is small

Charge drains off quickly
Differences Between Dyson V6 Cord-free, Animal Cordless & Motorhead
Cleaner Head: The cleaner head is motorized to clean all types of floors in a V6 Cord-Free Vacuum. But for Motorhead, the cleaner head is direct-drive with 75 percent more brush bar power and on the other hand, Animal has 150 percent more brush power than the V6 Cord-free vacuum.
Run time: The Dyson V6 Cord-Free has a run time of up to 20 minutes. Motorhead has a run time of up to 30 minutes and Animal has up to 40 minutes. So, if you have a bigger house, Animal will be better for you since it will clean more space with its greater run time.
Addition of crevice tools: The addition of crevice tools to clean narrow or hard-to-reach areas are present in both Motorhead and Animal but not in V6 Cord-free vacuum. Thus, if your home has several corners that are difficult to reach, Animal or Motorhead will be a good choice.
Pet hair removal: Only the Dyson V8 Animal is perfect for this job. Pet hair and ground-in dirt can be removed with this little powered tool. V6 Cord-free and Motorhead lack this ability. Therefore, if you have any pets, Animal is suitable for you undoubtedly.
Soft dust brush: Only the Dyson V8 Animal is up to the task. Animal contains a soft dusting brush to dust gently. Others lack this feature as well.
HEPA filtration: HEPA filtration technology is also available for Animals only and it is essential to capture allergens. Motorhead and Cord-free do not acquire this feature.
Similarities Between Dyson DC59 & V6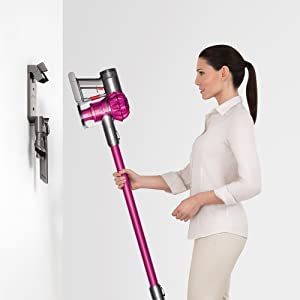 Power
The V6 and DC 59 are no exceptions to the rule that all Dyson vacuums have power. These have the same V6 motor as earlier versions, which has greater power than the older V2 motor.
The maximum power of this Dyson vacuum cleaner is 100 air watts, which is roughly 40% higher than its predecessor. When in regular mode, both the DC 59 and the Dyson V6 operate a little longer and are less subject to power loss.
Battery
Another striking resemblance between the two is runtime. They each include a lithium-ion battery that can offer up to 20 minutes of strong suction, depending on the mode and cleaning equipment you choose.
Both the Dyson V6 and the Dyson DC 59 include powered accessories, such as the Direct Drive cleaner head, which may cut cleaning time to only 10 minutes. If you use the vacuum cleaner on its highest setting, the duration may be reduced to 6 minutes. It takes around 3.5 hours to fully recharge both batteries.
Tools
Even though there are some major differences in the tools they use, some accessories are still common between them. In complement to the Direct Drive head, both come with a combined tool for flat surfaces and crevices, a crevice tool, a soft dusting brush, a powered head for pet hair.
If you are not willing to change the attachments, then the combination of tools serves useful purposes. It performs best on flat surfaces and also does a great job on crevices.
Differences Between Dyson DC59 & V6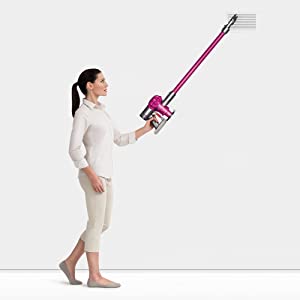 Motorhead
The Dyson v6 vacuum cleaners include motorized heads with nylon bristles. If you use maximum power, the motorized head drains the device much more quickly. The distinction is that the Dyson DC 59 series features a Motorhead model with about 75 percent greater brush power than that of the Dyson V6 models.
HEPA Filtration
The filtration in both Dyson series is one of the most important distinctions. Although the Dyson DC 59 vacuum cleaner has washable filters that last nearly a lifetime, they are not HEPA. HEPA post-motor filters are included in the Dyson V6 series.
HEPA filters, or hyper-efficient particulate air filters, collect the air's smallest dust and allergy particles. This one is excellent for allergy sufferers or those who have a high sensitivity to air. These filters are also washable and, when used properly, may last a lifetime.
Compared to the Dyson DC 59 vacuums, the V6 series filters are more easily accessed. To access the filtration system, you no longer need to dismantle the dust cup.
Suction Power
The Dyson DC 59 has powerful suction but it fades away quickly since the runtime is limited. But this is not the case for V6. Till the last minute of runtime, these vacuums retain their strong suction. From the beginning to the end of your cleaning session, you will get constant suction.
Soft Roller Cleaner
This tool is not present in DC 59 models but is featured in the V6 vacuum cleaner. It's a brush roll produced from a very soft substance.
Soft roller cleaner is excellent for laminates, tiles, hardwood, and other bare floorings. Specifically, any bare flooring that needs extra care to clean due to its delicacy. This tool will not ruin your costly hardwood floor since it glides over it softly without scratching it.
Last but not the least, Dyson DC 59 has a wide range of models with various specific features whereas, V6 is more advanced and contains many improved specifications. It depends on your preference which kind of vacuum cleaner suits your lovely home.
If you are facing a problem with sucking pet hairs then you can try Dyson DC50 Animal.