As an Amazon Associate, I get commissions for purchases made through links in this post. No extra cost to you.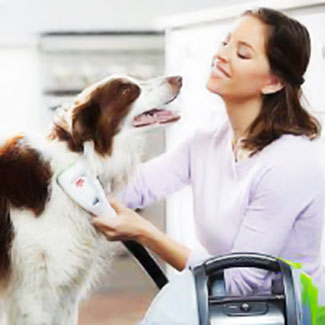 Washing your pet is not an easy task and when it comes to washing your dogs, you are probably going to face the toughest realities of life.
It is not only getting your friend inside the tub but bathing the kid will require much more than this.
Yes, pets create mess and DOGS MORE! You have to deal with the mess, dog fur, soap, and the dirt.
Enjoying while bathing your dog is almost a nightmare?
We know we have said bathing your dog with enjoyment is a nightmare but what are the technologies for!
Yes, technologies are for making your life easier and to afford you a little more ease, the brand BISSELL comes with the Bissell Barkbath Quiet Tone Portable Bog Bath.
You and your dog, no one will ever be disappointed with this device.
Bissell Bark Bath Review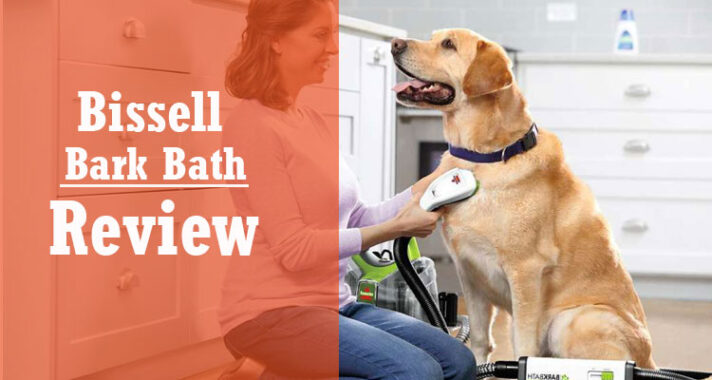 Why did we choose it?
We go through unlimited field works before reviewing our selected product and make sure that it's worth the hype.
We are presenting the Bissell Bark Bath Review to let you know the basic details of the product along with the pros and drawbacks.
Things We Liked
Portable and lightweight
Keeps your dog less wet after bathing
Includes spray nozzles
Nozzles are adjustable
Includes shampoo that is non-oily
Best for dogs that don't love to sit
Things We Didn't Like
A little small for very much large dogs
Overflowing the dirt-sector may create leakage
Let's have a look, friends!
Construction
The construction of the Bissell BarkBath is sturdy enough to afford your durability.
This appliance is perfectly put together and you can highly rely on the quality of this product.
The crafting material of this appliance is basically plastic. You may deny accepting that the plastic is durable but trust us; it is made of high-grade plastic that will give you the dream-bath to your dog!
The internal area of the appliance has very much strength to hold up the weight of the dog and everyday bathing.
This is a perfect bathing appliance for your home if you have dogs.
If you are not purchasing it for your home, you can also pick this up for commercial dog grooming sessions.
This will stand out in every position as the best dog bath.
All-in-one Groomer
This baby is an all-in-one groomer for your dog. There are a lot of people who have issues with bathing their dogs in different places.
With this bath tool, you will never face issues with cleaning your dog. You can take this cleaner anywhere in your home.
Noise Discharge
There are dogs that are afraid of noise. If you have dogs that get frightened when they hear the noise, you will not get the freedom of using a dog bath tool which discharges high vibration or noise.
Moreover, when you are at home and cleaning your dog, it is very much annoying to listen to the noise that disturbs you.
Bissell understands you and for your convenience, this brand comes up with a bath tool where the noise is emitted.
Just like the vacuums, here also you can go for emitting the sound. All you have to do is go through the training steps to nurture your dog.
The steps are mentioned in the user manual of this bath tool. If you have dogs that are sensitive to noise, train them according to the manual.
Nozzles
To clean your dog properly water and shampoo is not enough. Dogs have fur and the amount of dirt and dust gets into your dog can make him ill.
As the kids are close to the dogs, the dirty fir may also harm them. To keep the hygiene of your house, you have to select a bath tool that includes nozzles for cleaning your pet.
The nozzles of this bath tool are designed specially. These can go beneath the fur of your dog.
These go inside and with shampoo, they clean your dog. The best part about these nozzles is they help the shampoo and water go inside the fur.
The nozzles are not only for going inside the fur of your dog. These nozzles also help in spraying warm water to the fur of your dog.
If you use the nozzles for spay then warm water can go inside the fur properly. While cleaning your dog, the loose hair may fall down on the tool and create a surface over that.
The design of the nozzles also gives you a benefit in removing that surface of the dog hair.
The soft suction of the bath tool helps you the pull out all the dirt and dust from the body of your dog.
This does not mix up the dirt again to the water of the bathing unit. Rather this suction pulls out the dirt and takes them to a different water tank to keep the dirty water divided.
Performance
When it comes to performance, the Bissell BarkBath is the best for the dog. It has not only been named as BARK but it also barks when it comes to quality of work.
This cleaner is just the right deal for you if you have a four-legged friend at your home. There are dogs that have thick fur. You might be thinking that if this bath tool is perfect for the thick-haired dog or not.
Let us assure you that this BarkBath QT tool by Bissell is designed keeping in mind all types of fur and every type of dog.
The spray nozzles are adjustable. You will find no disturbance is accommodating the nozzles according to the hair length of your dog.
No matter how lengthy and hairy your dog is, the adjustable nozzles can be adjusted according to that.
Proportions
The dimensions of the product are 9 x 17 x 12 inches. No matter how big your dog is, it will sit inside the device.
You can easily put your dog inside and help in grooming it. This dog bathing appliance weighs only 9 pounds.
This is highly portable. You can easily change the position of the device and set it wherever you want as per your needs.
Bathing Facilities
The BarkBath is a PRO when it is about grooming your dog. You will get one bath unit which is portable.
You can move this portable bath unit anywhere. This bath tool comes with a storage bag. If you are a person who has issues with storing the bath tool then this tool is a life savior for you.
With this Bissell BarkBath, you will get one 13 feet hose also.
Along with the hose, you will get a sound damping mat which is made of microfiber.
With this mat, you will be able to clean the face and the paws of your dog. It will clean your dog from tip to toe.
Cleaning does not only require water and so this kit also includes one bottle of shampoo. It has a bottle of no-rinse shampoo which weighs about 16 ounces.
Placements
If you want to get the best benefit out of your Bissell BarkBath Tool, you have to place the sound damping mat made of microfiber on the floor first.
Then you have to position the portable bath unit on this mat. You cannot keep your pet near.
You have to move this about 13 feet away from your dog. For better result, you can follow the YouTube videos of bathing your dog with Bissell BarkBath Tool.
If your dog weighs 80 pounds or less, you will be able to bath your dog comfortably.
The portable bath unit of the Bissell QT Bath Tool has the capacity of 48 ounces of water. If you dog weights 80 pounds then this amount of water will be enough to clean your dog properly.
The other portable bath units of different brands usually require more than 19 gallons of water to clean your dog.
So, if we think broadly, the Bissell BarkBath QT Tool is going to save money and time along with the environment and this is environment-friendly.
What do we love?
There are so many aspects on which we have chosen this bath tool. This tool is portable and can be taken anywhere you want.
On the other hand, you will also get access to a hose which is great. There are dogs that don't love to sit.
This can be the best alternative to them. This will not make your dog excessively wet after taking bath.
The shampoo that this brand affords is not oily and it also includes an impressive fragrance. It is very much easy to operate.
What we don't love?
There are always a dark side of every moon and the Bissell BarkBath too!
This model is quieter than the models that are released previously but still the little noise this BarkBath makes may frighten your sensitive dog.
If you have a very large dog that you may feel that the reservoir is a little small.
Final Verdict
No matter what, the positive aspects of this Bissell BarkBath QT Tool are going to cover up all the drawbacks.
The performance is enough to make you buy this one. The choice is always yours.
If you love the potentials of this bath tool, buy it once because you love your dog to be neat and clean!