As an Amazon Associate, I get commissions for purchases made through links in this post. No extra cost to you.
The Aeron chair by the manufacturer Herman Miller is one of the most popular and most recognizable office chairs in the world. Herman Miller introduced this chairs in 1994. It has been receiving awards and accolades ever since. There is a bit of customization available on the Aeron chairs. There's gonna be a quite a few options that you can choose from
Herman Miller Aeron Review
Specifications:
Size: 41 x 27 x 17 inches
Seat Height: 16-20.5 inches
Max Weight: 350 pounds
Seat Pan Adjustment: No
Adjustable Lumbar Support: Yes
Lumbar Support: Yes
Warranty: 12 years
Design & Build Quality: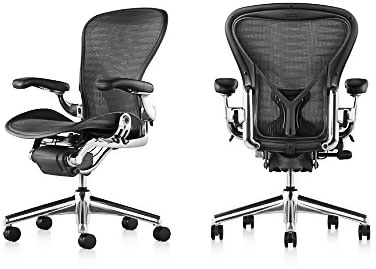 Aeron chairs comes with three different sizes, A, B and C. The unique feature is they are all mesh chairs. The manufacturer company uses nice mesh upholstery and top class plastic to manufacture Aeron chair. So the quality of the chair remains top class.
This chair has a nice finishing and fitting. All the parts are well shaped solely for the Aeron model so they fit along nicely. That's why they fit together nicely and do not show awkward gaps between the parts. Also this chair has comfort and a solid built as well all the parts of this chair are solely made for this chair. It is not made from parts of any other chair model. So all the parts of this chair fit together and give it a solid build with an elegant look.
Ergonomic Adjustments:
Ergonomic adjustments are the most important feature of an office chair.  Although some people will beg to differ, Aeron comes with some nice ergonomic features. It features quality armrest and seat height adjustments, to ensure your arm and knees are in a comfortable position.
This chair also provides quality lumbar support despite the lack of back height adjustment options.
Comfort: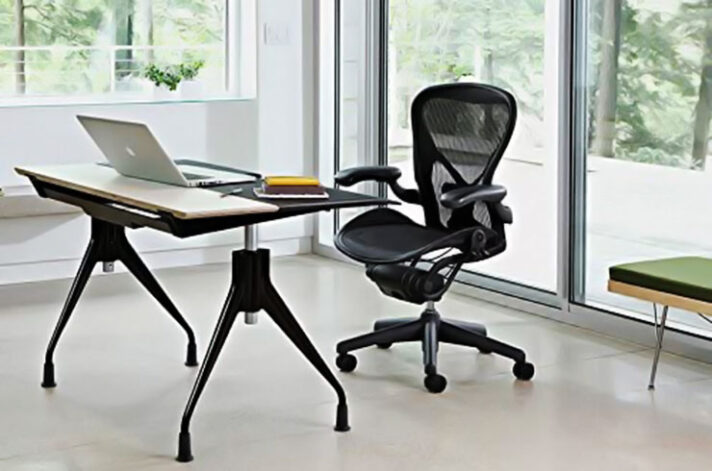 #Back Support: To provide you total comfort and a better back support this chair is being made by mesh backrest, which is properly breathable. The backrest is designed to take the entire weight of your back. It distributes the weight properly over the backrest so you can comfortably lean back against it .The backrest of this chair is made of 8Z pellicle mesh. This mesh built backrest is manufactured with a proper curve that ensures great lumbar support for your back.  The dimension of the back support of this chair is different for different sizes.
Dimensions are for size A= 20.25" (w) and 21" (H), B= 21.5 (w) and 22" (h) and C= 22.75" (w) and 23" (h).
#Armrest Comfort: The armrests of this chair are very comfortable. They are attached to the backrest is such a way that they can move along with you when you are about to recline. This brings comfort to your arm in every sitting position.
Armrests of this chair come with variety. They are stationary arms, fully adjustable arms or height adjustable arms. The armrests have polyurethane foam that has made them so soft and comfortable. Also they are very adjustable according to your needs.
#Seat Comfort: If you are looking for a chair with a comfortable seat you should go for Herman Miller Aeron chair. Just like the backrest of Aeron, the seat of this chair is also made of soft 8Z pellicle mesh. This pellicle mesh seat is very soft and promises to give you more flexibility and comfort.  Seat dimensions and specifications are stated as below.
Seat Height: Size A= 14.75-19, B= 16-20.5, C= 16-20.5
Seat Dimension: Size A= 15.75"(w) X 16.75 (d), B= 17" (w)X 16.75" (d) and C= 18.25" (w)X 18.5" (d)
Assembly:
This chair comes to the customer's door as fully assembled. You need not to be worried about assembling. This chair is ready to use as soon as it is unboxed.
Warranty:
It comes with a warranty of 12 years. we must say that it is comparatively a long period for a chair.
Return Policy:
Customers of Herman Miller also enjoy a return policy of 30 days. If there is anything wrong then you can always return the chair within 30 days. The manufacturing company will bear the shipping costs for you and give you a full refund. You can enjoy the return policy even if you don't have the original packaging.
Price:
This chair has a starting price of $900+
Other Features: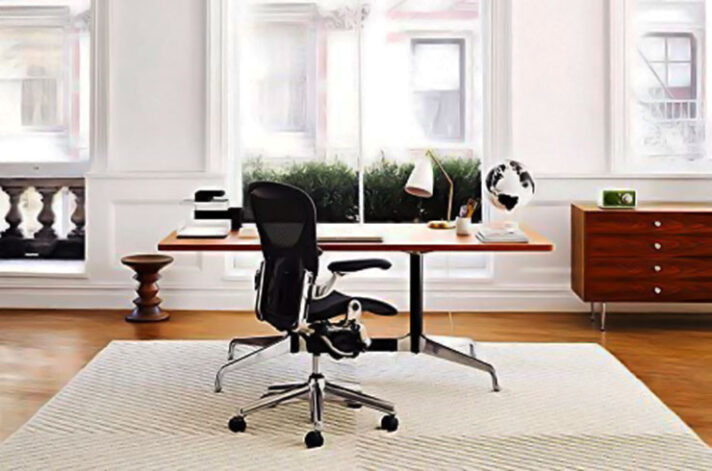 #Mechanism Options: This chair has two different mechanism options. These options are:
Standard tilt options
Tilt limiter or seat angle adjustment option
Both these options ensure your comfort. They both have more or less tension adjustments but won't lock your position. So you can enjoy a free recline position anytime you want.
#Wheel Options: To make the movement fast and smooth Aeron uses a caster of 2.5" diameter while other chairs use 2" caster. Wheels have a sleek look as they are made of black nylon. They roll smoothly over carpet, rug and hard tile floor. So you don't need to put extra pressure while moving around the room on your aeron.
#Upholstery Options: Herman Miller Aeron is an all mesh chair. Both the seat and backrest are made of high quality mesh. It is specially made with high quality 8Z Pellicle mesh. The 8Z pellicle makes the seat and backrest soft so that the user can feel proper comfort. It is also very flexible and proven to move along with the position of your body. This flexibility of a chair is very beneficial for body posture and it prevents unwanted sore muscles.
Pros And Cons
Lets discuss the pros and cons of Herman Miller Aeron office chair.
What I Like:
It has a strong build with an elegant look
You can have a comfortable and balanced recline with it without disturbing your position while reclining
Polyurethane foam made armrests are very soft, comfortable and nicely adjustable
To ease your forward lean while working on a laptop Aeron has a forward tilt option. The chair itself helps to put you forward than the upright position
Made to provide an excellent Lumbar support
Comes fully assembled
A massive warranty of 12 years
What I Don't Like:
Back height is a bit inconvenient as it doesn't offer back height adjustments
Both seat and backrest are made of mesh, which feels a bit uncomfortable for some people
Thick frame and side bolsters of this chair could feel obstructing your free and relaxed movement and comfort
Conclusion
Despite it's notable negative features, Aeron is still a very popular chair. That's because it has introduced a comfortable, easily maneuverable mesh chair, that everyone finds sleek and perfect for office interior.
The ergonomic features of this chair is undisputedly great. It's ergonomy is guaranteed to provide full support and balance to your arms and back. Not only the armrest, the seat of this chair is also upto the mark.
So Herman Miller Aeron chair can be said with confidence that, this chair will go with the interior and inner vibe with any office. It will enhance the beauty of your office decoration beside ensuring the comfort of the employees.
Related Post: