As an Amazon Associate, I get commissions for purchases made through links in this post. No extra cost to you.
What's the first name that comes to mind when you need a high-quality office chair? Undoubtedly, that is Steelcase. Steelcase office chairs are second next to none when it comes to comfort and practicality. And when you're trying to pick one, the Steelcase Think vs Leap question inevitably arises.
An office chair isn't just regular furniture. When you spend more than one-third of your day on a chair, it becomes an extension of you. Naturally, office chairs should be increasing your productivity without hampering your health.
Most Steelcase products are ergonomic and also aesthetically compatible with modern office decor. Steelcase Think and Leap are prime choices to ensure an excellent working experience. However, sometimes you need to make a choice.
Since you're here trying to learn what these Steelcase chairs are suitable for and how they are different. That's what exactly we're going to talk about now.
Related Comparison Guides:
COMPARISON CHART: AT A GLANCE
| | Steelcase Think | Steelcase Leap |
| --- | --- | --- |
| | | |
| Item Weight | 50.6 pounds | 41 pounds |
| Product Dimensions | 24.5"D x 28.5"W x 42"H | 21.75"D x 27"W x 38.5"H |
| Room Type | Home Office | Office |
| Form Factor | Upholstered | Upholstered |
| Material | Textile | Textile |
| Warranty | Limited Lifetime Warranty | 12-year warranty |
| Price | Check Price | Check Price |
Steelcase Think vs Leap: Similarities & Differences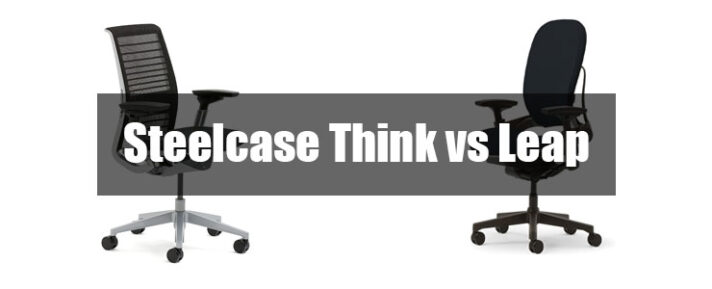 Both Think and Leap are amazing chairs in their own right, and they are designed like works of art. However, each has its own special features. And while both of these modern ergo chairs are suitable for office work, you might prefer one over the other depending on what you need. Here are all the ways these chairs are similar yet different.
Design & Build Quality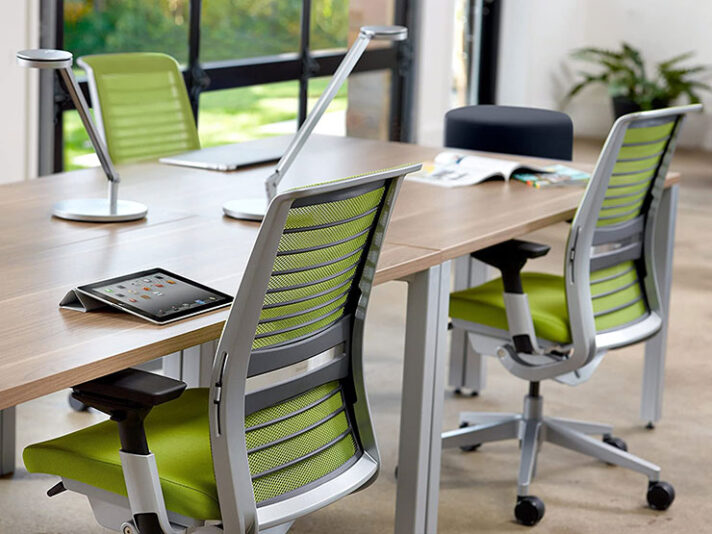 Steelcase Think comes in 14 different translucent 3D knit back colors and three different frame finishes. The 3D knit is suitable if you want some airflow and increases comfort even if you're sitting for hours.
You can make this chair match your interior using the thousands of upholstery choices from Steelcase and Designtex materials, including fabrics, leathers, and even vinyl.
When it comes to Leap, it comes with four choices of frame finishes and just as many fabric or leather upholstery options as the Think chair.
How does the whole effect look? Steelcase Think looks very streamlined and lean. It would go perfectly with your minimal decor. It wouldn't look out of place whether you're buying it for a professional setting or a home office, or even a personal study.
On the other hand, Leap looks much more utilitarian. It isn't as glamorous as the Think or even as aesthetically pleasing. But it's a great choice for a corporate office. If you're not squeamish about mechanical-looking furniture, it would be a good fit for your home as well.
When it comes to build quality, you can count on Steelcase Leap. The chair is designed to withstand 24/7 use. But of course, that's not good for you or the chair. Instead, it is recommended that you use the chair for 8 hours daily.
Steelcase Think has similar build quality, but it has an advantage. The Think chair is Cradle to Cradle certified. That means this product was made sustainably, safe, and contributes to the circular economy by constantly going through improvements.
Ergonomic Adjustments
One of the most significant points of attraction of these modern Steelcase chairs is their Ergonomic feature. Not only are they generally made to be good for your health, but they can also be adjusted to suit your needs better. Both Steelcase Think and Leap offer some options for Ergonomic adjustments.
Steelcase Leap's back is adjustable and also allows lumber tension adjustment. Its backrest is equipped with LiveBack Technology.
Another fun feature is the placement of the adjustment manual. You'll never have to worry about fishing the manual out of a dusty box or wonder where you lost it. It can be found right under your armrest!
Moving on to Steelcase Think, this chair is also just as adjustable as the Leap, if not more. Also equipped with the LiveBack technology, manufacturers claim that this chair understands how you sit and makes the necessary adjustments so you're comfortable.
Another feature that makes it more adjustable than the Steelcase Leap chair is a tension adjustment dial that allows you to choose four different positions. This gives you more freedom to choose a comfortable seat.
Other than these excellent features, both chairs come with height adjustment. Considering the height range, Steelcase Think is more suitable for taller people. The chairs also offer seat depth and multiple arm adjustment options.
It should be noted that both these chairs can only support up to 400 lbs of weight. While they might withstand a little more weight in reality, it's best not to try it at home (or office). If your weight exceeds 400lbs, you might opt for another chair or get an upgrade.
Comfort
Why would you buy a high-end chair unless it is comfortable enough to fall asleep on? I'm kidding; please don't fall asleep on your office chair. But you know what I mean. You're spending some big bucks no matter which Steelcase chair you get, so it better be good.
While we're considering Steelcase Think vs Leap, there are three criteria for comfort that we're considering-
Back Support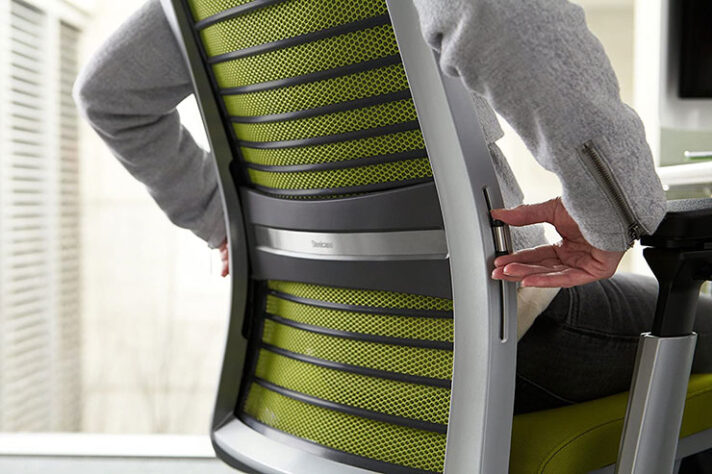 Steelcase Leap comes with a backrest equipped with LiveBack technology. The manufacturer claims that the comfortable material on the backrest will mold itself to your spine's movement and offer maximum support, which is fantastic. It also allows lumber tension adjustment.
When you're sitting for hours and hours, it's best to change your posture regularly. The Leap chair gives you quite a few choices for that. If you're paying for an upgrade, you can also get a matching, modern ottoman to put your feet up for ultimate comfort.
Steelcase Think gives you fewer reclining options, but the four options that it offers are completely under your control. You can use the tension adjustment dial to recline it just the way you want.
While it isn't as flexible as the Leap, reading any Steelcase Think review will tell you that users are very happy with this chair. It's something you can keep using for years and years and never get tired of.
Armrest Comfort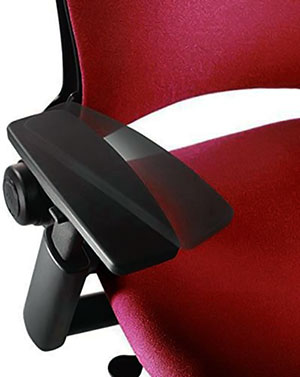 While you're buying the Steelcase Leap, you can choose between three options. The first two options are normal- armless and height-adjustable arms. However, the third option is height, depth, width, and pivot-adjustable arms, which is great for arm comfort.
Steelcase Think doesn't offer choices as extensive as the Leap. The options are armless, fixed arms, and adjustable arms.
Due to the four-direction adjustability, the arms of both these chairs are dubbed 4D arms.
Seat Comfort
Seat comfort depends a lot on the materials used. Other than that, both of these chairs have foam that is less than 2 inches thick on the seats. While some users complain about the seats being too hard, it's actually better for your body than over-padded cushions.
The seat depth can be adjusted quite a bit, and you can try that path if you're finding the seat uncomfortable. If you're still not quite happy, you can always add a cushion for comfort. But most people agree that the seats are just right for comfort.
Assembly
Now that you know more about these chairs, you can see that they're pretty complex. Even if you understand what all the pieces do, you probably would not be able to assemble them without something going wrong. As a result, you wouldn't get the full benefit of the chairs.
Thankfully, though, these chairs come fully assembled. You just need to take them out of their package and start using them. No pesky assembly is required.
Warranty & Return Policy
While these chairs are awesome, they might not suit everybody. After getting your chair, you might change your mind and want to return it. Or, if you're unlucky, there are some malfunctioning parts. What to do?
Both Steelcase Think and Leap are similar in terms of warranty and return policy. Both chairs come with 12 years of warranty. You can contact the company for any repairs you need. Some users did mention that if you live far from one of their outlets, it might be a hassle to get repairs done.
Steelcase Think and Leap both have free returns within 30 days of receiving them. The original packaging needs to be intact, and the product should be in new condition.
Price
When you're comparing Steelcase Think vs Leap, price is something you would need to compare. They're actually not that different, give or take a hundred dollars. The price changes based on what specifications you're opting for. Based on your choice of upholstery, finish, arm adjustment, etc., the price would go up.
Therefore, judging these chairs solely on their price would be inconclusive. You'd have to have a similar budget to buy either of them.
Conclusion
Now that you know the main features of these chairs, you know what you need, and you can answer when asked to compare Steelcase Think vs Leap. Everyone has different opinions, and I believe we gave you enough information to consider which of these two magnificent chairs would be a good fit for your needs.
So, which one is your pick? Steelcase Think or Leap? Don't forget to tell us in the comments!