As an Amazon Associate, I get commissions for purchases made through links in this post. No extra cost to you.
Cleaning is the most important task in our lives. A clean house leads to a refreshing environment. Microorganisms have fewer places to hide in a clean household. Furthermore, dust and allergens accumulate in carpets, bedding, and upholstery over time, worsening allergies and asthma. In a nutshell, the health advantages of a clean house are evident. However, it's a time-consuming process in our busy life. This is when Dyson DC 56 vacuum cleaners take a major part! To know more read Dyson DC 56 Review till the end.
Read More: Dyson DC50 Animal Reviews
Dyson cleaners have excellent suction power. There's a Dyson vacuum for every purpose, from deep cleaning and pet hair removal to rapid cleaning and adaptable hard floor options.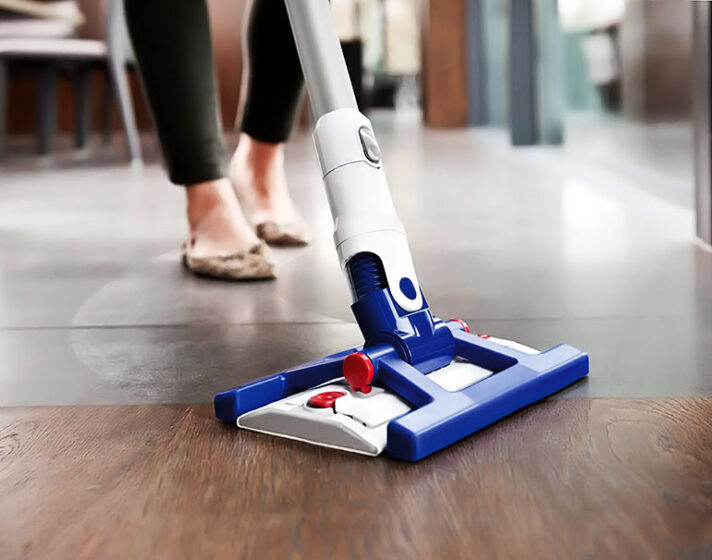 Dyson DC 56 Review Hard
Specifications:
Brand: Dyson
Form Factor: Handheld
Model Name: DYSON HARD DC56
Surface Recommendation: Hard Floor
Special Feature: Cordless, Bagless, Cyclonic
The DC56 Dyson Hard is the company's newest addition to its home cleaning product range. Hard is an interestingly titled mop and vacuum combination meant for use on "hard" floors such as hardwood, linoleum, tile, and so on. Will this vacuum cleaner be worth the money? Keep reading this article to know the answer!
Appearance:
The Dyson Hard is configured to be more useful, mobile, and slim than traditional ball-bodied Dyson cleaners, similar to modern Dyson vacuum models. There are three main parts for this vacuum which are pole, mop head, and handheld vacuum. The digital Motor part is a Root Cyclone that uses a 104,000-rpm motor.
The vacuum strips unique incorporation helps to take up big chunks of dust and dirt while the wet mop wipes away the finer grains in a single sweep.
Performance:
Detach the vacuum from the mop heads by pressing both red buttons. After that, tuck the damp cloth around the surface of the rubber. Later, place vacuum above the mop and press the red buttons down until everything is secured.
The Dyson Hard, however, isn't as efficacious on our surfaces as the Dyson DC44 because it has a reduced vacuuming surface.
This vacuum dries faster as well to avoid excess moisture being absorbed.
Pros And Cons
What I Like:
Lightweight
Wall mount included
Handheld performance is satisfactory
Cleans minute dusts efficiently
It's quicker than using a vacuum first, then a mop.
What I Don't Like:
Has a habit of pushing dirt around rather than sucking it up.
Wet pads dry quickly
Doesn't work efficiently on carpet
View On Amazon
Dyson DC 56 Review Lightweight
Specifications:
Brand: Dyson
Form Factor: Handheld
Special Feature: Portable, Washable filter, Cordless, Bagless
Power Source: Battery Powered
Item Dimensions: 15.3 x 9.4 x 5.3 inches
The Dyson DC56 cordless handheld vacuum cleaner is perfect for little jobs around the house, at work, or in the automobile. This strong handheld will not lose suction while cleaning, thanks to the Dyson digital motor and Root Cyclone Technology. The DC56 portable is lightweight, weighing only 2.9 pounds, and has an ergonomic form that makes it simple to use.
Appearance:
It's a lightweight vacuum cleaner with a well-balanced distribution of weight that makes it comfortable to use. The Dyson portable vacuum is ideal for tiny cleaning chores such as vehicle seats, footwells, carpets, and underneath vehicle seats. This Best Rated portable vacuum includes a washable filter and is available in white. With dimensions of 12.67 x 4.56 x 8.07 inches, the Dyson dc56 portable vacuum has a container volume of 0.09 gallons.
Performance:
The dirt can be readily discharged from the Hygienic bin by pressing a button. Furthermore, it takes around 3.5 hours to completely charge. Because this Better Equipped vacuum for pet hair is so well-designed, it fits well in the hands and provides a secure grip. The Root Cyclone technology aids in the efficient capture of dust and tiny particles in the bin.
Pros And Cons
What I Like:
Suction power is high.
Extended Runtime and contains a Crevice and a Combination Tool
Dust and tiny particles are captured in the bin by Root Cyclone technology.
It's light and has a well-balanced weight distribution which helps for simple handling,
Excellent for cleaning in-vehicle areas including footwells, carpets, and underneath vehicle seats.
View On Amazon
Differences Between Dyson DC 56 Hard and Lightweight
Product Dimensions: 10.7 x 29.5 x 5.6 inches for Dyson DC56 Hard and 15.3 x 9.4 x 5.3 inches for Dyson DC56 lightweight.
Weight: Hard weighs 12 pounds whereas lightweight weighs 4.84 pounds. So as the name states Dyson DC lightweight is the lightest one. Thus, it is easier to carry and use.
Efficiency: Lightweight can clean both carpets and hard surfaces whereas DC56 Hard is designed to clean only the hard surface. Lightweight can clean in narrow places more efficiently.
Battery Recharge Time: Hard takes 5 hours to charge whereas Lightweight takes only 3.5 hours to recharge. Therefore, lightweight takes less time to charge so, it can start its work early compared to DC56 Hard.
Dust Brush: Dust brush is present in Lightweight so, it can efficiently clean dirt throughout the place as well as in narrow passages. On the other hand, dust brush is not present in Hard so it is not efficient like a lightweight in cleaning dirt.
Other General Differences:
Receptacle Full Indicator is present in DC56 Hard but it is absent in DC56 Lightweight
Lightweight is self-propelled whereas Hard is not.
Hard has Built-in Attachment Storage but Lightweight does not
Head to handle length for hard is 44.1 Inches whereas head to handle length for lightweight is 49 inches
Cleaning Path Width is only 8.25 inches for Hard and 9.8 inches for Lightweight.
Overall, both of them are effective and efficient in their work. They are efficient in different ways. It depends on the individual which one he or she prefers. Of the person who wants to focus on hard surfaces, Dyson DC56 Hard will be perfect. If an individual wants a flexible vacuum that will clean carpet, soft surfaces, and mainly dust particles from corners then Lightweight will be perfect.