As an Amazon Associate, I get commissions for purchases made through links in this post. No extra cost to you.
Are you an office person? Then I am sure you are looking for a top notch office chair? And maybe you think about Steelcase Gesture and Embody, but confused. So don't worry read Steelcase Gesture vs Embody and find out the best one for you. We all know that a comfortable chair can provide the utmost comfort and increase your work efficiency. So it's important to choose the office chair carefully.
There has been a tug of war between the Steelcase Gesture and the Herman Miller Embody for office chairs. Both of them manufacture top-notch ergonomic office furniture It is impossible to avoid making comparisons between their major items. We've made a comparison between them based on all of the important factors to consider when purchasing a new chair, such as ergonomic features, comfort, adjustability, and more. This article is going to help you choose your desired chair for your workplace.
Related Comparison Guides:
Comparison Chart: At a Glance
| | STEELCASE GESTURE | Herman Miller Embody |
| --- | --- | --- |
| | | |
| Item Weight | 56.3 pounds | 51 pounds |
| Product Dimensions | 23.63 x 34.63 x 44.25 inches | 28 x 27 x 38.25 inches |
| Room Type | Office | Office |
| Form Factor | Upholstered | Upholstered |
| Material | Textile | Recycled Material |
| Warranty | 12 Years (Lifetime warranty on the frame) | 12 Years |
| Price | Check Price | Check Price |
Steelcase Gesture vs Embody [Similarities & Difference]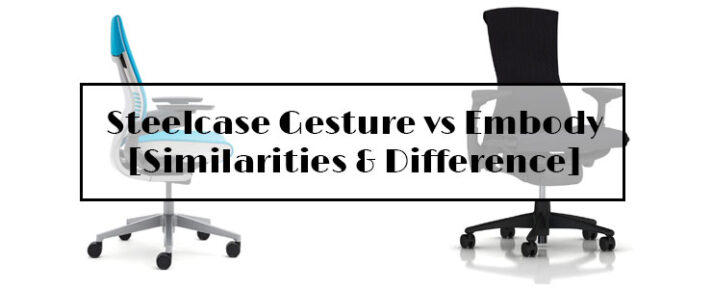 Both of them are excellent compared to their respective price ranges. It depends on how much you are willing to pay for an office chair. Some aspects are different in both chairs, while others are the same. Let's compare and contrast between the two chairs and decide which is the superior model.
Design & Build Quality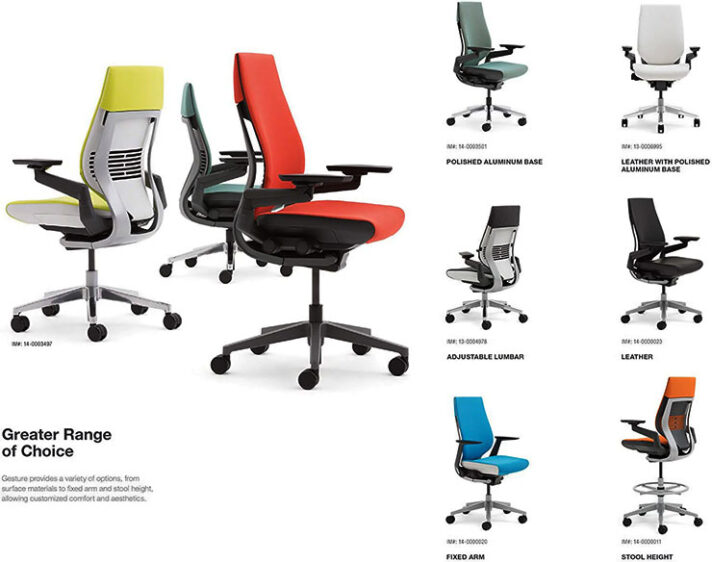 Every consumer prioritizes comfort over appearance when selecting an office chair. However, a beautiful chair has a good impact on the office environment.
The Steelcase Gesture features the same amazing 3D knit upholstery that made the Leap V2 so popular. When it comes to fabric, the Gesture is available in two different styles. You may either leave the back open to show off the distinctive spine pattern or wrap the fabric around the entire back.
Both of their frames are constructed of high-quality aluminum. The Steelcase Gesture, however, has more plastic elements and parts than the Embody. This isn't a big deal because we know how tough Steelcase chairs are, but it's worth mentioning.
Steelcase Gesture and Herman Miller Embody chairs both come in a variety of colors. Steelcase Gesture, on the other hand, offers more color selections, while Herman Miller Embody is available in ten different tones.
From a design standpoint, Herman Miller Embody is the clear winner. It features a simple style that enhances the beauty of your workspace.
Ergonomic Adjustments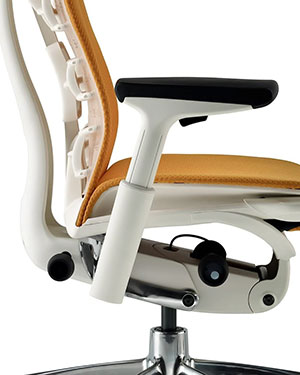 Lumbar Support:
Isn't this the true reason you're eyeing these two chairs? You wish to shape these chairs to fit your body type using ergonomic adjustments.
Both chairs have pretty cool back adjustment technology. Steelcase's Gesture chair includes 3D Live Back technology, which delivers different stages of support when you recline. Although we prefer the Steelcase Leap's lumbar tension mechanism, the Gesture's lumbar support is also excellent. The Embody employs Herman Miller's "pixel" technique to provide individual spinal support through the entire part of the chair back.
The Embody cradles the back a little more than the Gesture, and the pixelated support's micro-adjustments appear to be quite effective. The backstop "trigger" on the Embody is also worth mentioning. It has numerous layers that prevent the back from reclining too much.
Seat Depth Adjustment:
Seat depth can be adjusted on both of them. The Gesture uses a roller design that can be done comfortably while seated. The seat depth on Embody has to be adjusted by pulling forward a little knob. Even though both are fine, The Gesture works more naturally, and you can make some fine changes.
Back Height Adjustment:
Seatback height alterations are only available on the Herman Miller Embody. If you are very tall, you may prefer the Embody since both the brands have high backs.
Overall, While the backrest of the Embody lets you work in a comfortable position, it lacks two key adjustable features. Sadly, no lumbar that is, lower back or arm pad adjustments are available. The Embody chair is unsuitable for you if you desire adjustable lumbar support.
The Gesture features a wide seat depth range, and the backrest may be adjusted in four different ways, from fully reclined to the entirely upright position. To boost comfort, the great lumbar support can be entirely adjusted. Steelcase Gesture is one of the most adaptable office chairs available, with practically all adjustment mechanisms accessible. The only thing lacking is the ability to modify the back height.
Comfort: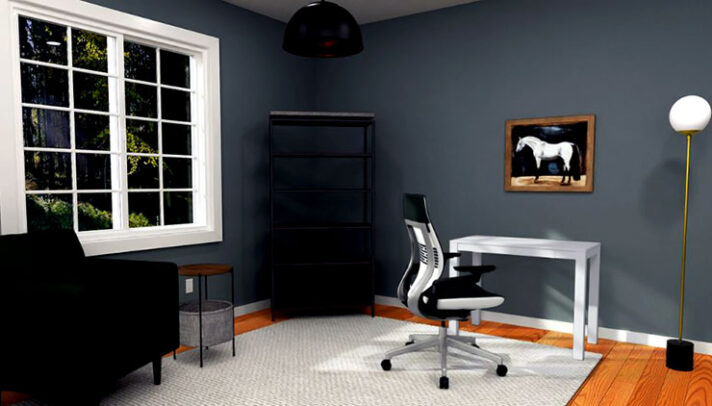 When it comes to comfort, the Herman Miller Embody outperforms the Steelcase Gesture chair. Let's learn more about them in detail.
Back Support:
The Embody is well known for its innovative spine. The S-shaped backset is designed to imitate the curve of your spine and give comfort and support during long periods of sitting. We must acknowledge that the back support is exceptional, and the backseat's overall appearance is stylish and contemporary.
Lumbar support is adjustable on the Steel Case Gesture. The backrest is pretty high, and no part of the chair came close to touching your shoulders. However, you will be at a disadvantage if you're taller than 6'3′. Its backseat edge may touch your shoulder.
The Embody, on the contrary, features a high back that isn't adjustable but is meant to accommodate most individuals.
Armrest Comfort:
This is the only area in which the Steelcase Gesture is a clear winner. Their four-way arm adjustments are incredible. The ability to swing the arms out from the chair's body enables broader people to sit securely in the Gesture. The arm adjustments on the Embody are nearly as effective, however, they lack the width adjustment. Instead of pivoting inwards, their width adjustment pivots outwards.
Seat Comfort:
The Embody is made up of four layers. the chair has lots of cushioning while allowing for adequate ventilation to keep you cool, and the pixelated support system adapts to your body as soon as you sit down, ensuring perfect weight distribution.
Many of this reduces pressure and supports frequent movement, which is a genuine trademark of all of the greatest ergonomic chairs available. It is also broad enough for larger users and has the all-important waterfall-edge design that ensures good blood flow to the extremities and so prevents weariness.
Steelcase is just one of the finest when it comes to seat comfort. We're blown away by their ability to make comfy seats without using a lot of cushioning. You'll probably appreciate sitting in the Steelcase Gesture office chair even if you prefer a large and thick seat cushion.
Additionally, to all these comfort features, the Steelcase Gesture has the option of purchasing an add-on headrest, however, the Embody does not. The Embody's height back adjustment helps to compensate for this, but if you like a complete headrest for lengthy gaming or writing periods, you might choose the Gesture over the Embody.
Assembly
To assemble the Steelcase Gesture chair, you first need to pop the casters that you will receive in the box onto the base of the chair. Make sure to put vertical pressure on the caster and to pop it into place since some can be more difficult than others to attach. Then turn the base up and attach the cylinder in place into the base. Next, you take the chair and insert the cylinder into the actual chair component.
Herman Miller Embody comes almost fully assembled and it is easier to put it together than Gesture.
Warranty & Return Policy
Steelcase and Herman Miller provide a 12-year warranty on both the Gesture and the Embody. However, there are very few issues with these chairs, and even if there are, both brands provide excellent after-purchase support.
Steelcase offers a 30-day money-back guarantee on all chairs. There are no restocking fees and free return shipping. To obtain a complete refund, the chair must be returned in new condition and its original packing.
You can return the Embody for up to 14 days and obtain a full refund from Herman Miller. Herman Miller doesn't charge a restocking fee, and they'll even pay for return shipping. Although it is preferable to keep your original packaging in order to complete a return, Herman Miller can deal with you if you no longer have it.
Price
The Steelcase Gesture is somewhat more costly than the Embody at its base configuration. However, in terms of pricing, they are nearly identical. If you choose polished aluminum for the frame of the Gesture or the wrap-around fabric option, you'll pay a few hundred dollars more than you would for the Embody.
Customer Reviews On Amazon
Both have distinct advantages. The Steelcase Gesture is larger, has a weight capacity of 400 pounds, and is virtually unrivaled in terms of flexibility. While the Herman Miller Embody has repeatedly been shown to be the more durable and supportive chair, as well as the simpler of the two.
Finally, choose which chair to spend your hard-earned money on wisely. It depends on your personal preference and necessity. The Gesture is the way to go if you have back problems and require adjustable lumbar support, or if you simply want the freedom of being able to fine-tune every aspect of your chair. The Embody may very well be the one for you if you're searching for long-lasting comfort and stability.