As an Amazon Associate, I get commissions for purchases made through links in this post. No extra cost to you.
As a well-known and beloved brand in many homes all throughout America, La-Z-Boy has been providing one of the highest quality of furniture since 1928. While they have produced several different types of furniture, they are mostly known for their state-of-the-art recliners.
It is true, there is nothing quite like a La-Z-Boy recliner. Designed and assembled in the United States of America, these recliners are the perfect place to unwind after a long, hard day at work or school. They give the full body complete support all while adding comfort and style to any room
Varying from traditional designs to more modern designs, there is a La-Z-Boy recliner out there for everyone. Whether you want that traditional, classic recliner or you are looking for more motion and range with their swivel recliners that allow for you to face in any direction while reclining so you'll never miss out on anything.
There are even power-operated recliners with great features such as mechanisms for the disabled, with functions that can provide assistance to those who need help standing up, as well as amazing power-operated recliners with built-in massagers. So you can add even more pleasure to your relaxation time as your La-Z-Boy recliner massages away the stress.
Today, we are here to talk about their incredible Reclina-Rockers which are their recliners with the rocking base function. This article consists of five of the best La-Z-Boy recliners based on reviews.
We have chosen from a wide range of recliners and narrowed them down into the top five. Each recliner has its own subtle difference but there are a few characteristics that they all share in common which include the following:

Full and complete support for your body from head to toe using La-Z-Boy's state of the art design, as mentioned above
Rocking motion that can be used while reclining or even for when you are not reclining so you enjoy rocking while you relax and watch tv or read a book
Adjust the amount of pressure needed to activate the reclining motion using the adjustable tension settings
The leg rest can be placed in different positions for the optimal reclining position using the three-position locking mechanism
There is also the option to recline without using the leg rest so you can simply rest your back
All La-Z-Boy recliners feature their patented design that provides natural movement which allows for comfort and ease when reclining.
So here is the list that we have compiled based on La-Z-Boy recliner reviews from various websites, to make it easier to choose one that is right for you.
Related: Catnapper Vs Lazy Boy comparison
Best LaZy Boy Recliner Reviews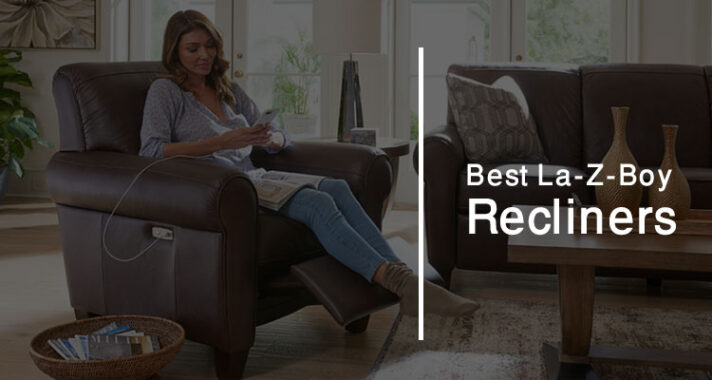 1. Calvin Reclina-Rocker, Recliner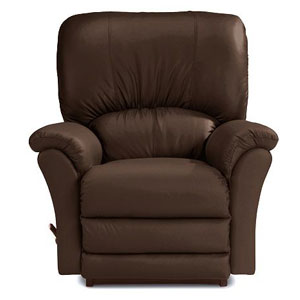 Staying true to the La-Z-Boy standard of quality, the Calvin is an amazing recliner. Big and spacious, it allows you the enjoyment of a soothing rocker, mixed with the comfort of a recliner.
With soft cushioning for both the back and your tired feet. Yes, this recliner offers full-body support with its split pillow and adjustable leg rest.
You can even recline without lifting your legs as your head and neck are cradled by the extra comfy padding.
The beautiful granite-colored, textured fabric upholstery is stitched with fine details and accompanied by poofy, pillow top armrests, this is what gives Calvin its inviting appearance.
The subtle wooden finish on both the handle and the base of the chair creates a very warm and natural feel. An ideal piece to complete any room with subtle style and comfort.
Things We Liked
Adjustable Tension
Three Position Leg rest
Rocking Base
Reclining Motion without Leg rest
Neutral Colour
Things We Didn't Like
Smaller than most people anticipate
Fabric Upholstery makes cleaning more difficult
The amount of effort taken to recline even after adjusting the tension is a lot
Loud leg rest adjuster
2. Niagara Reclina-Rocker, Recliner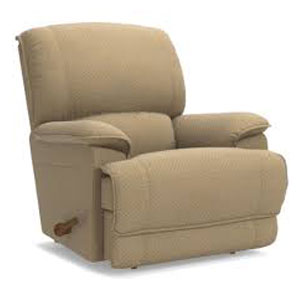 The perfect combination of style and comfort is what the Niagara provides. This plush and soft recliner offers full back support with its pillow back for extra comfort as you recline.
Its smooth waterfall chaise and plump leg rest, cradle the rest of your body while you can use the three position adjusting handle to select the perfect reclining position for you.
Even your arms can res in comfort with the Niagara's cushioned, pillow top armrests for complete and full body relaxation. With this eye catching Platinum coloured covering, detailed stitching and quality La-Z-Boy craftsmanship, the Niagara adds style to any room.
Things We Liked
Adjustable Tension
Three Position Leg rest
Rocking Base
Recline without leg rest
Neutral Colour
Design and colour give a high end appearance
Things We Didn't Like
Fabric Upholstery makes cleaning more difficult
Smaller than most people anticipate
Lighter coloured fabrics tend to fade and become stained easier than most
3. Reese Reclina-Rocker, Recliner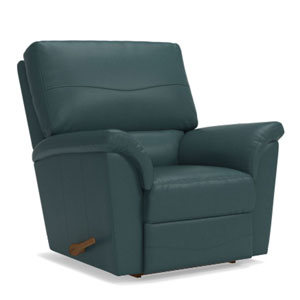 Make a bold statement with this deep crimson upholstered recliner. The Reese is finished with fine detailed, single needle stitching accents, adding to its sleek design.
This recliner has extra head and back support with its high split back pillows and additional arm comfort with slightly flared arm cushions. Positions your feet perfectly with the three position leg rest by just pulling the conveniently placed handle on the sides.
Rest in comfort and style with the bold Reese, for the perfect pop of colour in any room.
Things We Liked
Adjustable Tension
Three Position Leg rest
Rocking base
Polyurethane face and Polyester backing make for super easy, stain resistant cleaning
Modern looking with its bright colour and sleek design
Things We Didn't Like
Bold colour might not suit everyone
Space between the leg rest were small children's feet and other body parts can get stuck
High split back pillow can add discomfort for some people
Larger than most expect
Material can be easily scratched and torn
4. Duncan Reclina-Rocker, Recliner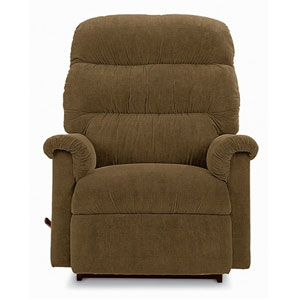 Traditional design meets modern with the Duncan Recliner. Your entire body is engulfed in complete comfort as you are cradled by the sculpted bucket seating and padded leg rest.
Choose your ideal position for reclining as you relax using the three-position leg rest mechanism. When you are not in the mood to recline, you can enjoy rocking as you watch TV or read. The Duncan sports a stoic, classic steel grey upholstering embellished with beautiful mahogany accents.
The body of this recliner is covered in Renew leather which is made from recycled leather, giving you that look and feel of genuine leather without the high cost attached. Add the Duncan Recliner to any room for a classic look and comfort with a modern twist.
Things We Liked
Classic leather appearance
Three Position Leg rest
Rocking base
Recline without leg rest
Traditional look
Things We Didn't Like
Loud leg rest mechanism
Renew is not as easy to clean as real leather
5. Anderson Reclina-Rocker, Recliner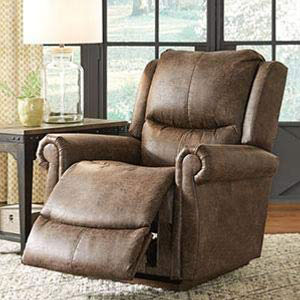 The Anderson is the perfect addition to any room and will complement your decor, regardless of the color scheme. Versatile and stylish the natural sand fabric upholstering allows for easy decor matching.
Great for smaller spaces, the Anderson is slightly smaller than your traditional La-Z-Boy recliners, making it perfect for apartments and small rooms.
Lean back and recline without raising your feet or use the convenient handle to adjust the leg rest with your choice of any of the three positions for optimum relaxation.
Things We Liked
Three Position Leg rest
Rocking base
Recline without the leg rest
Small frame is perfect for smaller rooms
Things We Didn't Like
Might be too small for some people
Less padding that the larger recliners
The back does not recline as far as traditional La-Z-Boy recliners
How to care for your La-Z-Boy recliners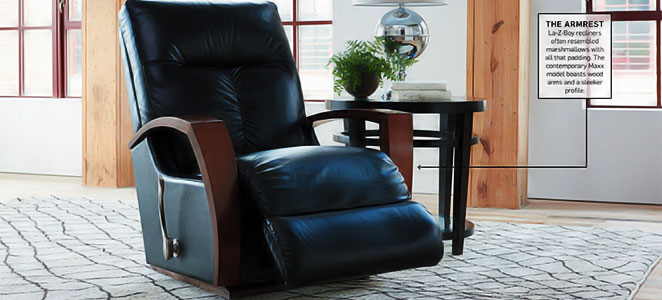 Fabric:
In terms of care and maintenance for your La-Z-Boy recliner, because there are up to 900 different fabrics and other upholsteries cleaning methods vary. However, before we specify any, there are some general tips for keeping your La-Z-Boy recliner nice and clean. Firstly, to prevent soiling in general, use a vacuum with an attachment that can reach the small creases or any non-metallic brush with stiff bristles to remove dust and prevent grime
Always remember, to avoid damaging your upholstery any tough stains or severe soiled conditions should be handled by a professional upholstery cleaning company. For properly cleaning fabrics with no damage, the type of fabric must first be determined. On the recliner, there should be a tag with the relevant information, such as the fabric type and the code for cleaning.
Each code has its corresponding cleaning instructions.The codes and their instructions are as follows:
Code W:
Spot cleaning should only be done with a water-based shampoo or foam upholstery cleaners
When cleaning a spot, start from the outside and move inwards to avoid circle stains
The use of a non-metallic stiff bristle brush may be required for some fabrics
For spills, always soak up any liquids immediately to prevent them from seeping deeper into the fabric and causing staining
Do not ever remove cushion covers and put them to dry clean
Code S:
Use only water-free dry solvents
Code WS:

For water-based stains (Most food-related stains). Blot the area to remove any excess liquid then rub the soiled area with a mild mixture of water and soap. Using plain water, rinse to remove any excess soap and blot dry, gently rubbing in a circular motion. To maintain suede, use a vacuum to buff.
For Oil-based stains (Eg. Ink, cosmetics, shoe polish). In most cases, soap and water can remove the simple stains. For heavier stains, a solvent compound may be necessary. Any non-bleaching upholstery cleaner can be used. Once applied and the stain is removed, lightly get rid of any excess cleaner with a mixture of soap and water. Buff dry as mentioned above.
Code X:

Do not use any liquid or foam cleaners on these materials.
Vacuum or brush gently to remove soil
Leather
Caring for leather upholstered recliners can be very different from dealing with fabrics. Though cleaning is much easier, there are specific things to look out for when dealing with leather.
However, once properly cared for, the beauty and classic appearance of leather furnishings can last for many years at a time. There are various types of leather and each of these types have their very own specifications in terms of care and cleaning.
Any serious or intense staining should be addressed by a professional cleaning company, but here are some general tips for leather upholstery care:
Dust and vacuum often, using the small attachment for getting inside the seams
Wipe weekly using a soft, lint-free cloth slightly dampened with water
To prevent fading, avoid direct exposure to sunlight
Intense heat can cause drying and possible cracking, to avoid this keep your leather upholstery at least twelve inches away from any intense heat like radiators and other sources
Leather can also become stained, similar to fabrics. Prevent this by cleaning up spills immediately by blotting, not rubbing with a slightly damp cloth
For light stain removal:
Use a solution of ½ mild soap and ½ water on a slightly damp cloth or sponge
Work the mixture until it foams
Do not rub excessively
Blot any remaining soap off with another cloth that has been dampened with only water
Blot (not rub) until dry
Remember for difficult stains, contact a professional cleaning service
Verdict
So we can all agree when it comes to recliners La-Z-Boy is the way to go. With so much variety to choose from it can sometimes be difficult knowing where to start, so hopefully, this review helped you out.
It just goes to show, there is one out there for everyone. Whether you are looking for something classic like the Duncan or something modern and bold like the Reese.
Maybe you want something to fit your new apartment, then the snug, little Anderson would be perfect for you. With these top-quality recliners, there's something for everybody.