As an Amazon Associate, I get commissions for purchases made through links in this post. No extra cost to you.
Mirra 2 is Herman Miller's one of the best models so far. This model is a mesh chair with all the adjustments an office chair should have. This is a highly recommended office chair. Why? In this article, our experts Herman Miller Mirra 2 review will explain and discuss why you should go for this chair to decorate your office.
Herman Miller Mirra 2 Review
Specifications:
Size: 43.75 x 30 x 18.5 inches
Seat Height: 16-20.5 inches
Max Weight: 300 pounds
Seat Pan Adjustment: Yes
Adjustable Lumbar Support: Yes
Lumbar Support: Yes
Warranty: 12 years
What To Look Before Buy Herman Miller Mirra 2
Design & Build Quality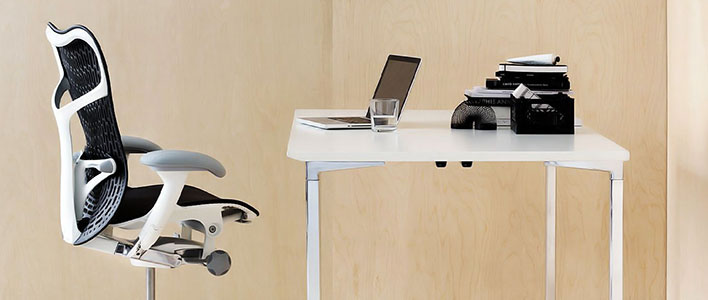 Mirra 2 is not a chair that is simply put together with random parts of a shelf. It is not a genetically designed chair like a lot of lower ends or commodity-based products.
The chair is composed mainly of aluminum and high-end plastics, which produces a pretty lightweight design. The chair weighs about around 40 pounds yet feels really solid and sturdy. Because all the parts fit together nicely, there is no awkward wiggling or moving. Everything is consistent and functions very smoothly.
Now let's talk about the mesh quality of the chair. The elastomeric and polyester combination mesh on the seat is a very high-quality product that we've seen out of a mesh office chair. It has good elasticity and is pretty soft compared to other mesh chairs.
Ergonomic Adjustments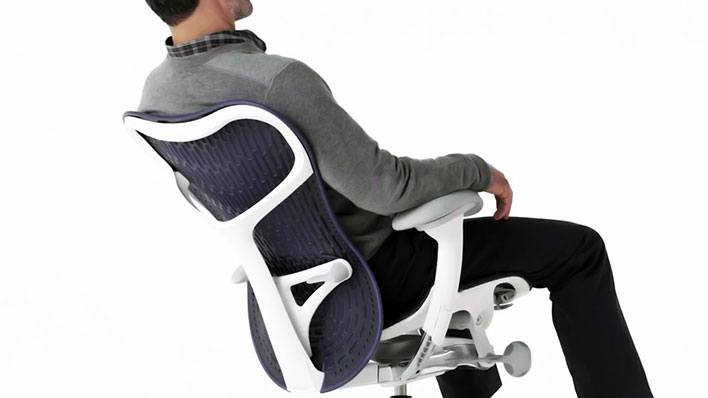 Herman Miller Mirra 2 has all the necessary adjustments. They are:
Seat height, depth adjustments
Arm height, width, depth, pivot adjustments
Adjustable lumbar support
Tension adjustments
It also has a three-position tilt lock
Comfort
Back Support: The back support design with the poly material and a large back design is very supportive. It supports your lower back all the way through your mid-upper back. The breathable design with the slits ensures that you are not feeling hot while you are working. The material itself is flexible, so it will allow your wider range of motion for stretching and reaching things.
Mirra 2 also offers a nice lumbar support system. You will also get a large height adjustment range for back support. You can adjust the back support to really low or really high adjustments, depending on your height. It also has depth adjustments. The nodes are individual to each side. When you want to have more pressure on your right side than your left, you can crank the adjustment down a little bit more and vice versa. So, with this adjustment, you really have a lot of control over where your back is being supported with that adjustable lumbar setup.
Armrest Comfort: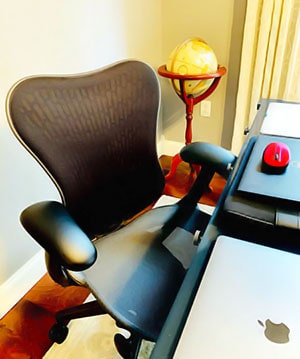 This chair has one of the most comfortable armrests. They are four ways adjustable: height, width, depth and pivot. Besides a good range of height, width, depth adjustment, armrests also tilt in and out. So, you will have a variety of different positions that you can put your arms in. The arm pads also have a very unique shape.
They have a unique waterfall-shaped front. This arm pad shape allows a user to get closer to your keyboard or desk without adjusting the arms. These armrests are not so sloppy that you do not have enough surface area to put your arms on. These arm pads are large so that it creates plenty of space to put your arms. The arm pads also are very soft, squishy and comfortable for long working hours. It also has a tough outer skin layer that will surely last a long time.
They also have a phenomenal arm height range, which goes really low and high to provide some extra benefit for both tall and short people. The width adjustment on the arms is pretty wide compared to other models of Herman Miller. The width of the armrest ranges 18.5"- 20.5". If the armrest width was narrow, then short and petite people could find it more comfortable.
Seat Comfort: The mesh of the seat is very elastic. It really conforms to your body, is breathable and very soft. The high-quality mesh creates a feeling like you are floating as you are sitting on top of a surface and not sinking into it like foam.
It also has a pretty pronounced frame, which is not that noticeable. But if you lean too far in one direction, then you can feel it. The adjustable seat depth in the front where it folds down does help you to avoid the front frame if it's hitting the back of your legs.
The Seat height range of this chair is 16" to 21". It has a high weight capacity of 350lbs while other office chairs can take load upto 250 lbs. which is a hundred pounds higher than other office chairs.
Assembly 
The Herman Miller Mirra chair comes fully assembled, so you don't have to worry about further assembling.
Warranty
Herman Miller Mirra 2 chairs come with a 12 years warranty period. This warranty period is applicable and covers all the chair parts and moving components, such as casters, cylinders, tilts, electrical components.
Return Policy
If you buy the Mirra 2 and don't like it, you can always return it within 30 days. Herman Miller will give you a full refund and they'll also cover your return shipping costs. You don't have to hold on to the original box, although the return process will be easy and quick if you do.
Price
If you buy the most basic version of this chair, it will cost you around $700. But if you want to buy this chair fully loaded with all of the options available, then it will cost you more than $1200.
Other Options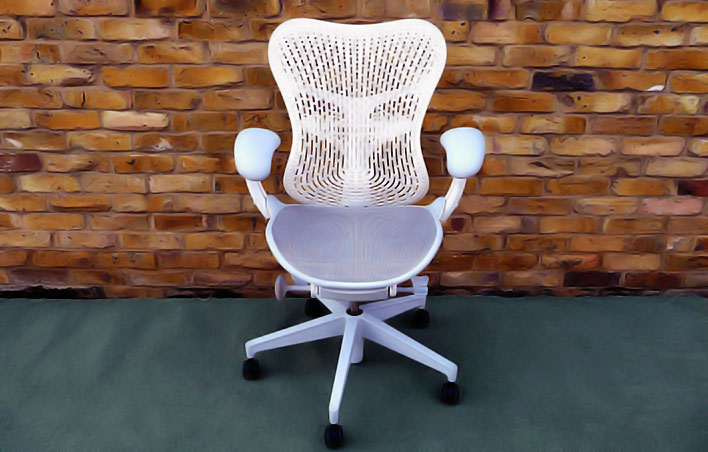 Let's talk about other options you may enjoy with Herman Miller Mirra 2 chair.
Wheel Options: The wheels or casters of the Mirra 2 are made of black nylon that has given it an excellent sleek look. The wheels of this chair are 2.5" in diameter. Considering the floor or surface Mirra 2 chairs have three different wheel options. These options are individually suitable for different surfaces, such as rug or carpeted surface, hard floor or carpeted surface and hard rough surface.
Upholstery Options: Mirra 2 is made of high-quality mesh with good elasticity. This high-end mesh will make you feel like you are floating on the surface instead of sinking into the seat. All the parts nicely fit together and the backrest matches perfectly with the seat design and color. You can choose between three available color or upholstery options: Alpine, Graphite and Dark Turquoise.
Pros And Cons of Herman Miller Mirra 2
What I Like:
Herman Miller Mirra 2 comes with all the necessary adjustments that a user wants
It has the most comfortable armrest among other office chairs.
It also has a top notch built quality.
Tilt adjustments are of high quality. It also has a 3-position tilt lock.
Its Lumbar support not only just adjusts high or low, but it also can adjust right or left. And yes, it also offers a balanced back support on which side you are leaning.
Users will enjoy a long warranty timeline of 12 years.
It comes as fully assembled.
What I Don't Like:
Mesh seat and backrest might be uncomfortable for people who are not used to it
The backrest frame might feel hard when you lean too far on the back
In this chair, wide armrest might felt too far from body for shorter people
Conclusion
Several chairs are available out there in the market, including other models of Herman Miller. But from the above Herman Miller Mirra 2 review, we can say that Herman Miller Mirra 2 can provide perfect comfort and fulfill all your demands.
Yes, this chair might have some disadvantages too. But it also is very comfortable and has a sleek, trendy look. So, despite all the drawbacks it has, we suggest you go for this chair to decorate your office interior.
Related Post: