As an Amazon Associate, I get commissions for purchases made through links in this post. No extra cost to you.
Steelcase makes some top-quality ergonomic office chairs. You can expect a sturdy and cozy chair from such a premium brand, which they will surely provide. Their chairs are made up of high quality and materials and are guaranteed to last decades. Steelcase Amia vs Leap: At first sight, Amia and Leap chairs look alike, but you will notice the difference in Leap's lower back firmness control. As the name suggests, you can control the firmness of the chair's back support. The Amia chair lacks this convenient feature.
We have tried to provide more information and differences about these chairs rather than just the adjustability. We will give a detailed review and comparison of Steelcase Amia vs. Leap, and let's find out which one has the advantage. Yes, you will be able to use both of these chairs in your home or office. They will help you to get the comfort you desire at the office while you are sitting for hours.
Related Comparison Guides:
Steelcase Amia vs Leap [Similarities & Difference]
Let us get familiar with the similarities between these chairs before diving into the comparison. Too many people think Amia and Leap chairs look almost identical. They are actually correct at that point, but there are some important differences between Amia and Leap chairs that we should be aware of before making the decision to purchase one. And keep in mind that both of these chairs are built by Steelcase; therefore, you will get a warranty and good customer service.
The Steelcase Amia chair uses a unique technology called LiveLumbar technology. It allows the chair to endure long hours of sitting. This amazing feature makes the backrest of the chair flex as per your movement. The liveLumbar can be controlled higher or lower based on your sitting taste.
Steelcase Leap chair uses a different technology, known as LiveBack technology. This feature lets the Leap chair adopt different shapes and support your spine's movement. Which is a remarkable characteristic of the Leap chair allows you to sit with a healthier posture. This chair aims to help relieve stress and back pain from bad sitting posture.
From our discussion above, you may have gotten familiar with Steelcase Amia vs. Leap, so let's continue with the comparison. We know that Steelcase Amia and Leap offer superb ergonomic design and comfort at a terrific value, which is a justifiable investment. We will review these chairs based on a few categories.
Remember that this review and comparison are strictly based upon our personal experience and research before continuing. To help you make the right choice, we will provide quality information.
Dimension and Appearance
Steelcase Amia:
Steelcase Amia comes in only one size, its seat width is 19 inches, and the back width is around 18 inches. Steelcase Amia can sustain up to 400 pounds of weight. There are some differences in their appearance. The Amia looks a bit sturdier with a squarish backrest, and also the seat pad is also a bit flatter than the Leap's curvier. And it has slightly thicker armrests.
Steelcase Leap:
Steelcase Leap also comes in only one size. Similar to Amia's 19-inch seat width and around 18 inches back width. Thanks to its support for adjustability, it can support a wide range of users. It also has a similar weight capacity of around 400 pounds, so they are strong chairs. In terms of functionality, both of them have similar armrests.
Winner:
We will give them a tie in the first round. As both are pretty similar physically and in dimension, some design elements have been changed. Steelcase Amia and Leap, both of them, can support an enormous amount of weight; you can assume how long these can last. You expect something like this from such a premium brand.
Adjustability
Steelcase Amia and Leap have several adjustable settings which can help you get the perfect configuration based on your preference. The seat depth can be controlled so that your legs can bend and reach the floor no matter what your height is. Both of these chairs consist of angle reclining with changeable locks. The back tension is also changeable.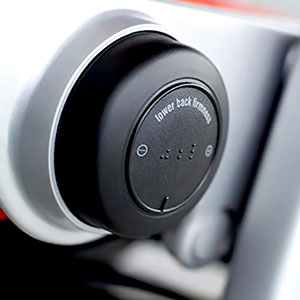 One of the most noticeable differences between these chairs is that the lower back firmness is adjustable in the Leap only. The lower back part firmness mechanism is much more complicated, but the top flex half is basic and constant. It can be useful if you want to adjust the lower back support without involving the rest of the back.
In the Steelcase Amia, the LiveLumbar technology helps adjust each backrest side right where the back flexes to match your spine. The sliding mechanism also makes it easier to operate. The Leap has an identical feature present, but the whole chair adapts to your posture.
Both of the chairs have the same functionality on the armrest, and they can be set at different positions, so you find the best spot for your comfort.
Winner:
We would give the win to the Steelcase Leap. It was tough to choose between adjustability, but the Leap has the edge over its lower back fitness feature, and the sliding system is appealing to use. These two different features divide the Leap from the Amia.
Comfort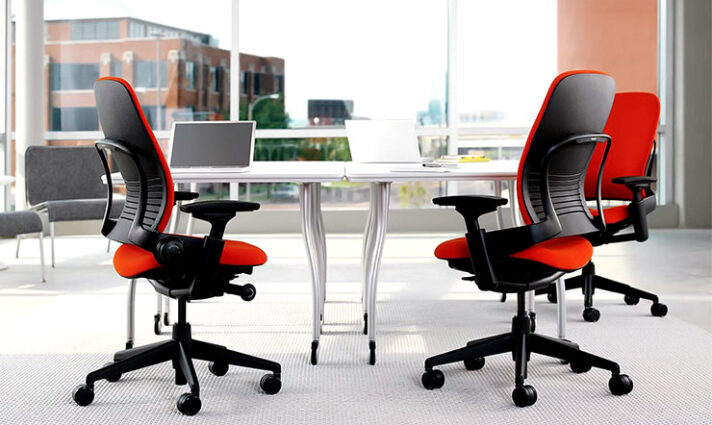 Steelcase Amia:
We don't realize how many times we change our position while sitting on the same chair for hours. The Amia plays a great role here by adapting to our postures and spine curve, providing the most comfort we require. The Amia also has the option to change the amount of resistance you want as you recline. The Leap, on the other hand, does not provide this feature; it only allows you to choose between two options, full coverage of motion or zero recline.
Steelcase Leap:
The Steelcase Leap supports a feature known as Thermal Comfort. This feature allows the chair to be breathable. It is also an extremely comfortable office chair you can get. The backrest of the Leap has foam for extra softness, and it has a slit design for maximum airflow. This design also allows the chair to balance warmth and moisture, so your back stays crisp. Some people like to modify their chairs, so you can go with Leap as you will be able to do that.
There is 5 step adjustment for its changeable backstop for reclination. Again, great for comfort. I think it is a must-have feature if you seek comfort. After long hours of sitting there, you will find the cushion of the Leap gives you much more comfort than the Amia chair.
Winner:
Again, this time the Steelcase Leap came on top in this category. More options for sitting adjustability helped the Leap to win the comfort category. We thought that the Leap is a better deal for this category. The Leap has a higher price point, so it is understandable why it provides more comfort than Amia.
FAQs [Steelcase Amia vs Leap]
Does Steelcase Leap have a headrest?
Yes, it does have a headrest. The headrest was built specifically to support the neck when leaning back. It adds to the comforts of the chair. Also, this headrest can be tilted up and down.
Is it worth it to buy Steelcase chairs?
Steelcase makes the sturdiest and most comfortable chairs. These can last long and provide tons of features, making them more interesting and attractive. Steelcase is a premium brand, and they also provide lifetime warranties.
How long do Steelcase chairs last?
A Steelcase Leap starts at around $800, which is a lot for an office chair. You can buy a cheaper, almost same-looking chair, but you will miss out on Steelcase chairs' much more premium material and ergonomics. A Steelcase Leap has a lifespan of about 20 years.
Does the Steelcase Leap support forward tilt?
The Steelcase Leap does not support forward tilt, but it does glide forward based on the user's sitting postures. It does have a reclining backrest tilt and adjustable tilt tension.
Where should the lumbar support be placed?
The lumbar support fits right behind your lower back into the natural curve of your spine. The chair comes with lumbar support adjusted from the factory, so you can modify both heights of the chair back and lumbar support individually.
Conclusion
And at the end, the Steelcase Leap takes the crown. Both of these are excellent chairs in their own right, and they can provide so many levels of comfort and functionality to their users. You can't go wrong with any of them. Both of these are made by the same premium company, Steelcase, so you can expect both of them to be well-built.
But we would go with the Steelcase Leap. Its innovative design, appearance, breathability, and excellent ergonomics make it our choice for the best between these two. If you have a tighter budget then you can go for the Amia. Because Amia is a cheaper version of Leap. Hope You would love it.