As an Amazon Associate, I get commissions for purchases made through links in this post. No extra cost to you.
We human beings are getting busier with our work and duties day by day. Life is becoming more hectic than before. This is the reason families are depending more and more on electric appliances. It was not long ago that family members had to divide days to sweep their whole residence. However, because of the increasing demand for high-tech vacuum cleaners, modern life has gotten significantly easier.
Our household appliances have changed to a considerable extent to keep up with the fast-paced technology of the twenty-first century. Vacuum cleaners that are our indoor mopping companion, have done the same.
Those of you who count only on electronic cleaning equipment are probably familiar with two well-known brands: Rainbow and Dyson. Which one is suitable for you? This article is going to guide you with all the necessary information that you need about them to compare.
Related Comparison Guides:
Rainbow Vacuum vs Dyson [Comparison Table]
| | Rainbow E2 series type 12 | Dyson V11 Turbo Drive |
| --- | --- | --- |
| | | |
| Suction Capacity | 165AW | 185AW |
| Dust Bin Capacity | 2.36 L | 0.75 L |
| HEPA Technology | | |
| Weight | 17 lbs | 6.68 lbs |
| Warranty | 5-Years [Limited] | 2-years |
| Price | Check Price | Check Price |
Rainbow Vacuum vs Dyson [Similarities & Difference]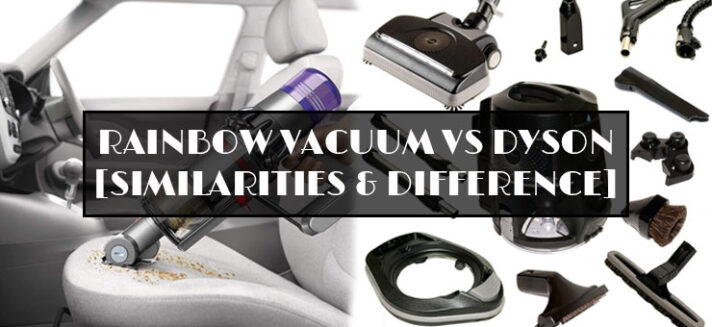 Choosing between the two brands, even though they each have their distinct kick, may be tough. It's better to analyze the two before placing an order, particularly if you want to keep various characteristics in mind. We're here to help you with this procedure and to smoothen your decision-making process. All you have to do now is go through your list of preferences with us as we bring up numerous characteristics to consider before making a purchase. Let's begin, shall we?
1. Suction Capacity
A strong suction force is required for thorough cleaning of any undesired particles and pet hair. While Dyson's suction power is 185AW (Air Watts), the Rainbow E2 has a far lesser suction power of just 165AW.
This suggests Dyson is a little bit more effective at cleaning all the crevices of the area. Nonetheless, the Rainbow model compensates for its lack of suction power by including an additional upholstery tool.
2. Dust Bin Capacity
In comparison to its previous models, the Dyson V11 Turbo Drive has a smaller bin with a capacity of only 0.75 L. Despite this, this product performs a decent enough job for a thorough home cleaning with no difficulties. This is a good option if you need to collect an entire day's dust after clean-up.
The Rainbow E2 series type 12 offers innovative storage, as compared to commonly used typical dustbins. The vacuum will pick up all of the filth and transport it to the water basin, which has a capacity of 2.36 liters. Although it may appear to be a dirty method of cleaning your room, the water bowl may be quite handy for washing the trash. Simply dispose of the filthy water, clean it with soap water, and you're good to go. This water bowl also has the added benefit of posing no risk of activating your asthma or dust allergy symptoms.
3. HEPA Technology
The HEPA filter requirement is significantly stricter when it comes to vacuum cleaners. While many people believe that removing visible dust and debris solves the problem, vacuuming is ineffective without adequate filtration. Many vacuum cleaners leak part of what they collect back into the environment due to clogged filters or leaking seals.
To address this, ASTM a world-renowned standards organization, published a standard that addresses whole-machine HEPA filtration in vacuum cleaners. Not only can they do the final post-motor filter in a vacuum be HEPA-grade, but every filter and seal throughout the machine can also be HEPA-grade, according to the new standard.
HEPA filtration is used by both Dyson and Rainbow purification and hand drying technologies to guarantee that particles such as bacteria, viruses, pollen, and dust are eliminated from the airflow, resulting in cleaner air being projected back into the room.
Using Rainbow E2 provides an additional advantage. It is a certified allergy and asthma-friendly vacuum that provides thorough cleaning. So, if you are suffering from allergies or have a pet, get this vacuum without thinking too much!
4. Noise Reduction Quality
Moving forward, both of the vacuums from Dyson and Rainbow perform admirably in terms of noise suppression. Even though both of them have low voice features, the Rainbow E2 has sound reduction acoustic foaming that makes it exceptional from others. Regardless of the option, you select, heavy and loud noises will be fully avoided, leaving you with a headache-free cleaning.
5. Multiple Surfaces
The vacuum cleaner you choose must fit your particular demands, from hard floors to rugs.
If your home simply has carpeted flooring, you can choose between the two options. If your cleaning space includes both carpeted floors and harder surfaces, such as hardwood floor paneling, the Dyson V11 Torque Drive is the better choice. Dyson is designed for all types of flooring and ensures a clean, glossy appearance.
Rainbow E2, on the contrary, is exclusively used for thoroughly cleaning carpeted surfaces. Both of these vacuum cleaners, however, have an extra benefit that is, they are intended to vacuum pet hair from the tiniest corners of your rooms, saving you from a long day of vacuuming.
6. Accessories
The Rainbow vacuum cleaner comes with all of the necessary accessories that can do every cleaning job. It includes an upholstery tool, a floor tool, a compact shampooer, a duster brush, and a crevice tool, among other things. Every endeavor has its own set of tools. Most significantly, you will not be required to purchase the accessories individually.
According to the Dyson v11 website on Amazon, the vacuum comes with additional accessories for cleaning the entire house and car. Torque drive head, mini motorized tool, crevice tool, obstinate dirt brush, soft dusting brush, combo tool, wand storage clip, docking station, and charger are all included with the Dyson. Dyson, on the other hand, does not provide that much benefit. To shampoo the carpet or upholstery, you'll need a separate portable shampooer.
7. Weight
When it comes to vacuum cleaners, the weight of the vacuum may play an important influence in your decision. The Dyson V11 vacuum cleaner, which weighs roughly 6.68 pounds, is a better choice if you suffer from backaches from time to time. Because of its lightweight. This model ensures swift and effortless mobility.
The Rainbow E2 model, on the contrary, is unquestionably hefty, weighing in at around 17 pounds. As a result, unless weight is a concern for you, this might be a suitable option because of the water basin, simple maintenance, and extra suction attachments.
8. Price
This is likely to be the most important factor for most customers when selecting a vacuum cleaner for their house.
The Rainbow Vacuum may be purchased reconditioned on Amazon for $1,120 or brand new through a Rainbow System distributor for roughly $2,000.
The Dyson v11 vacuum cleaner, on the other hand, costs roughly $650 brand new on Amazon.
When you make that comparison, you can see that the price difference is rather large. But don't forget about the extras and accessories that come with a new purchase of one of these vacuum cleaners.
Customer Reviews On Amazon
Other Features to Consider Between Rainbow Vacuum vs Dyson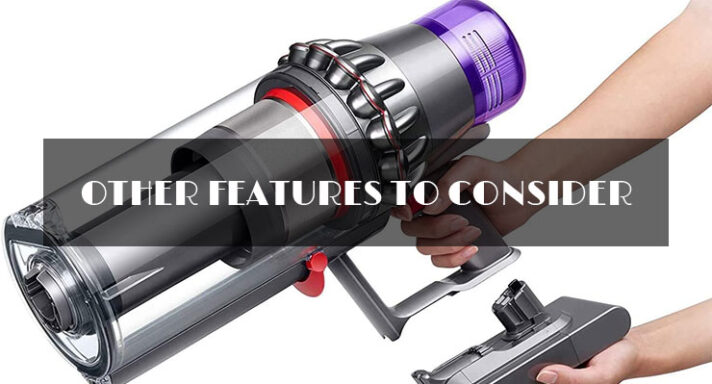 Pet or Animal hair
You can't use a regular vacuum cleaner to remove pet hairs since they're tough to remove from couches and carpets. You can easily clean hairs from your rug with Dyson's powerful suction. You get all of your cleaning done at once.
The Rainbow is designed specifically for pet hair. It has strong suction, and the rough brushes may scuff the surface and remove hair. You may also remove hair immediately using this equipment.
Cords
Although this may not seem like a significant deal to most people, it is something to consider when purchasing a vacuum cleaner. The Dyson Turbo Drive is a wireless model with a strong 7 cell lithium-ion battery system that can be a win-win solution if you want to skip the problems of cords.
The Rainbow model, on the other hand, is a basic wired vacuum cleaner. The cables, on the other hand, are significantly greater in length and will provide no problems while reaching for a location far off from the power source. It is up to you to decide whether to use wires or not, depending on your preferences.
Cleaning Area
Dyson covers a cleaning area of 84 cubic feet per minute whereas the Rainbow covers 80 cubic feet per minute. Therefore, Dyson undoubtedly covers more cleaning areas per minute than Rainbow. You can thus, clean a large hallway in one go using the Dyson vacuum cleaner. In this case, Dyson performs somewhat better.
Using Docking Stations to Save Space
This Dyson model has a docking station for storing your vacuum and various accessories. As a result, if all you need is to store your vacuum cleaner in a little location, this is unquestionably the best option for you.
Alternatively, if space isn't a concern for you and you have plenty of room to store inside, the Rainbow version will not be a problem.
Warranty
In comparison to Dyson's two-year warranty, the Rainbow comes with a 5-year partial motor warranty and a 2-year limited bumper-to-bumper warranty.
Advanced Features
The Dyson V11 comes with innovative technology, that includes intelligent cleaning settings, a constructed LCD screen that displays run time, functionality, and service reminders, among other things. Furthermore, the intelligent mode features three unique inputs, including an environment-friendly feature for those who choose to go sustainable!
The Rainbow E2 Type 12, on the other hand, comes with many attachments to ensure that no dirt builds up even in the most difficult areas of your space. It has six tools, including a floor brush, dust brush, and crevice tool, for a dirt-free outcome.
FAQs [Rainbow Vacuum vs Dyson]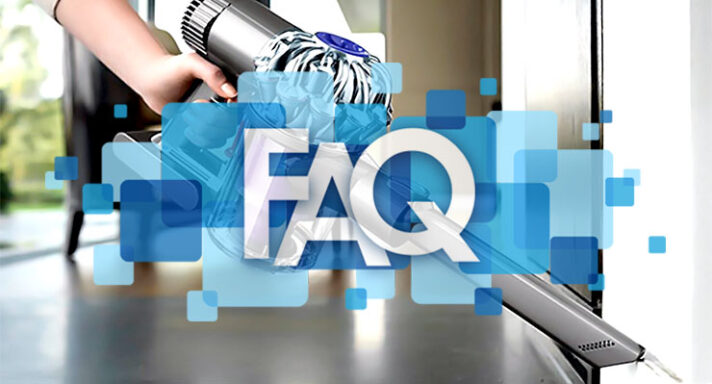 How long can Rainbow run continuously in low power water wash mode?
Ans: It has the potential to last longer than 24 hours. Some people run it on low at night to purify the air and then turn it off in the morning.
What is the voltage required for Rainbow?
Ans: According to the voltage standard of the USA and Canada, the Rainbow requires 90 to 140 volts.
How long is the reach with the wands attached to the hose? How long can it reach?
Ans: The hose has two wands, each of which is 17 inches long, for a total reach of 34 inches.
How can we separate nobs to clean the Rainbow?
Ans: With a screwdriver, twist the nut anticlockwise to lift the separator off and clean it with a toothbrush. Rainbow produces a two-in-one tool that is often kept near the divider.
How long is the main unit with no attachment of the Dyson?
Ans: About 30 cm
Does the charging dock need to be hand-wired in the Dyson or does it plugin?
Ans: It connects to the power source. The power adapter is a plug-in "wall wart" block, and the dock is connected via a lengthy cable with a barrel connection. When docked, the connector is adjusted to match into the charging port of the vacuum.
How long does Dyson need to be fully charged?
Ans: It takes about 3-4 hours to fully charge a dead battery.
What should you do if your Dyson keeps turning on and off?
Ans: The first step is to empty the trash container. Perhaps it's full, or the machine thinks it's too full to operate. Because a Dyson vacuum requires continual airflow to operate, a full bin might cause the machine to malfunction.
Dyson and Rainbow are both good at what they do. Remember to keep your needs in mind while buying a product that offers from its simple cleaning capabilities to a variety of complex functions.
The Dyson V11 Turbo Drive is pretty useful if you're looking for a good deal with the ability to clean both hard floors and carpeted areas. Rainbow E2 Type 12, on the other hand, will let you try out a variety of equipment. You may also test out the new water basin function that accompanies it, as well as enjoy a long-lasting relaxed opportunity.
Whatever you choose, remember to keep up with the maintenance regularly to ensure that it lasts as long as possible. Hope we have been able to point out all the important features. Happy shopping!