As an Amazon Associate, I get commissions for purchases made through links in this post. No extra cost to you.
Nespresso Vertuo Next, is a premium Coffee and Espresso Maker by De'Longhi. Though it is a well-performing device for shop and personal uses can be in trouble in terms of time.
If you are using a Nespresso Vertuo Next for about 1 year or more, you may find some issues like the device not working, the machine has been stopped, blinking lights, and similar trouble. To fix it, you need to go for some easy maintenance steps and tutorials which are gonna lead you to fix the issue.
So let's jump to the Nespresso Vertuo Next troubleshooting guide now.
Nespresso Vertuo Next Troubleshooting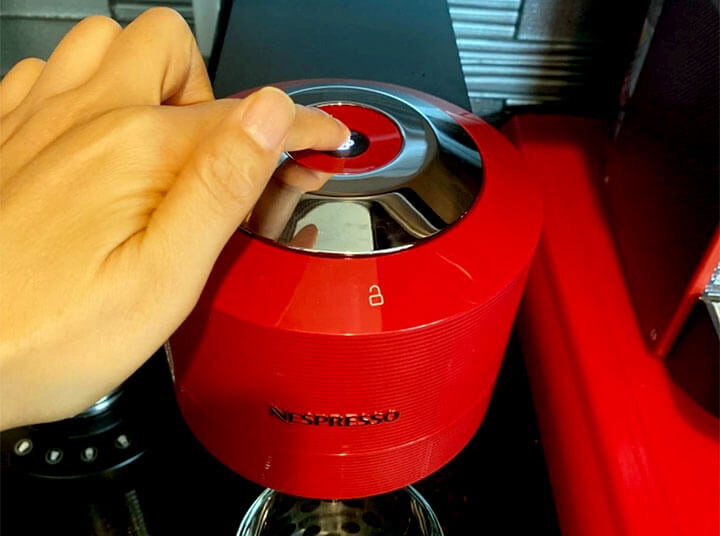 We are going to categorize this essay into 4 specific categories:
Hardware-Based Troubles
Blinking Issues
Pairing and Networks
Resetting
Hardware-Based Troubles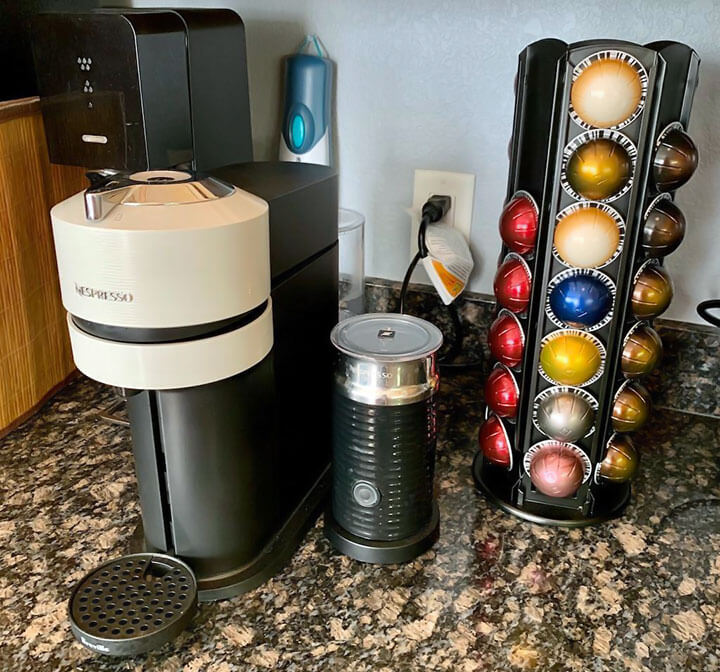 There are a few hardware trouble phenomena, that you may find in your device and certainly detect that, the device has stopped working. Let's roll into them,
Water in a Used Capsule or Container
Most often while the brewing process is going on, a little amount of water backflow happens to the capsule container. But when it is too much in amount, this may make your Vertuo stop working.
You must keep an eye on it and wipe it out after several duration so that it doesn't create an overflow.
To be noted, Nespresso developed software that can make a reduced command to this backflow. If you connect your machine to the Nespresso app and use the feature, you may get some better results.
Machine Leaking
Absolutely a big issue to make your device not work properly when it goes too much.
The source of the machine leaking is obviously the tank.
Make sure that the tank is not damaged and is positioned properly in the right place.
Every time before starting to brew, have an overlook on it.
Brewing Different Quantity
Though this is a rare issue but sometimes, the machine faces the wrong functionality that you are having a different quantity than you have commanded to make.
This may not make your machine not work, but a situation when you have commanded 3 cup quantity and found more or less. Which may make product and money loss for sure.
As this issue is related to software commands, and this doesn't have a legitimate source.
You better go for a quick reset, which can be a software reset or a manual hard reset on your Vertuo.
Grounds in Cup
This issue is often created by poor cleaning. You need to clean the device along with the container after every few days depending on the rate you use it.
In case you haven't cleaned it for long, maybe there are clogged up remaining inside the chamber. And this is when you may find ground in the cup.
The only way you can fix it is by cleaning it properly.
This issue may not stop your device from working but ruin your user experience completely.
Not Making a Full Cup
The reason behind your Nespresso vertuo next not making a full cup may be a faulty water tank placement.
The users sometimes place the tank in a rush and may get mispositioned. After a few times using the machine this way, your machine may stop working.
To fix it, reposition the water tank and it will be running fine again.
Coffee Not Hot Enough
Preheating may solve the trouble, but sometimes you may need to descale the machine to get rid of this issue.
We will be dropping the descaling procedures below.
Descaling Steps
The first thing you need to know is, that your Vertuo Next Descaling may take around 20 minutes and you cannot interrupt the procedure.
If you exit or turn off the power supply during why descaling process, the machine will be gone into descaling mode upon start. As a result, you will have to repeat the descaling and rinsing process to get your machine back in position.
We would recommend you read the manual of the machine properly before starting the descaling process.
Empty the drip tray as well as the capsule container and then place it back in its place.
Also, put 1 unit of Nespresso Descaling Liquid, and add 17 fl oz / 0.5 L water. Also then put it back at its place.
Close and lock the machine for having an optimized heating time.
If the light blinks, the machine is heating up. That's an indication.
Let the capsule get rejected by opening the machine head.
Close the machine again and leave it UNLOCKED this time.
Press and hold the button for more than 7 seconds and it will start blinking.
Within 45 seconds, turn the lever left and lock the machine. Turning right, run the machine again. Press and hold the button until the light is off and the device starts blinking.
Place the container again.
To start descaling, turn the device lock and push the button. As soon as the descaling is done the machine will be stopped automatically.
Empty the water along with the rinse tank.
You gotta fill the water tank with fresh drinking water for further activities.
When all these are done, push the rinse button and the machine will stop when it is done.
The button will stop blinking and become stable when the descaling is completed.
At this point, you are done and your Vertuo Next is ready for use.
Blinking Issues

1 Flash – 1 Stop
Does not make start and the orange light keeps flashing alternatively.
It usually happens when the water tank is empty.
You just need to fill fresh water and it will be done. Also, recommend checking if it is almost empty to avoid blinking issues.
3 Blinks and then Steady
Descaling Reminder; Orange light keeps flashing alternatively.
This may happen for different reasons, but to fix it go through these steps;
If happens while preparing coffee, Unlock it first. Then Check the pod position and also the amount of water.
If it happens during the maintenance process, check if the pod is ejected. Also, check whether the handle is locked.
If it doesn't get fixed yet,

Unplug the machine for 20 seconds after turning it off.
Plug it back in and turn the machine on.
Orange Light Blinking
Your Nespresso Vertuo has stopped working.
Maybe the machine is overheated or there is a coffee flow. In this kinda situation, you may turn the machine off first. After a few moments turn it back on when it gets cooled down.
If the matter was only overheating, you may find the orange LED light starting to pulse down. Also, after turning the machine off wait for 15 to 20 minutes. Often it takes this much time to cool down.
Also, some usual orange and red flashing may happen such as:
The machine is not Locked
Water Tank Empty
Brew Unit Blocked
Not Recognized Capsule
Electronic Error
Eject the Capsule
Firmware needs to be Updated
Descaling Reminder
All the blinking is generally a sign of malfunction and a warning of your Nespresso Vertuo Next.
It is recommended to descale the machine after every 3 months and when an update reminder has arrived, disconnect the machine from the wallet and then after 10 seconds connect it again.
It may take around 3 minutes to complete the update automatically. Be patient and wait till then.
Pairing and Networks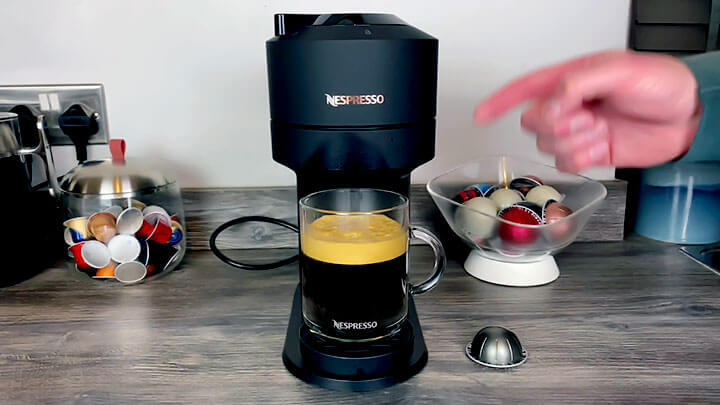 This is just a procedure for how you are gonna connect your Nespresso Machine to Nespresso App:
Download the software in your phone and make sure the device is connected to the power outlet.
Turn the Wi-Fi and Bluetooth on and launch the Nespresso App.
Click the machine icon on the home page. Make sure the network is strong.
Connect to the Wi-Fi and in a while, you will see, under the connectivity, the machine will say "Connected"
And it is done.
Sometimes in certain situations, your Vertuo Next gets malfunctions in programs. At that time, you have no other way than a hard reset. So, let's crawl into that;
How To Reset Nespresso Vertuo Next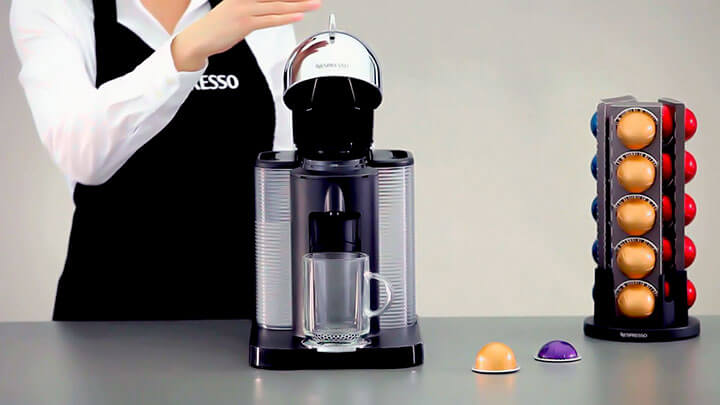 Make sure the device is turned on and connected to the power outlet so that no interruption may come.
Open the machine head up and let the machine eject its capsule.
Cleave the machine handle unlocked and close the machine.
Press the button 5 times within 3 seconds.
The button will start blinking five times orange and then become steady.
And at this point your Nespresso Vertuo Next Factory reset is done.
In the end, surely you are now aware of why your Nespresso Vertuo Next Stopped working, how to troubleshoot and how to reset it to factory settings.
In case you are still having trouble after all the steps we stated above, better call the nearest Nespresso Customer Service center and get expert help.
More Troubleshooting Guide on TV: