As an Amazon Associate, I get commissions for purchases made through links in this post. No extra cost to you.
Vizio is a USA-based competitive brand that produces affordable and better value-for-money tv deals. If you are a user of any model from Vizio, and you are having an issue like "Tv stuck at the logo" you are at the right place. We are gonna explore to why this issue happens and how you can solve the problem.
So, let's get started.
Vizio Tv Stuck on Logo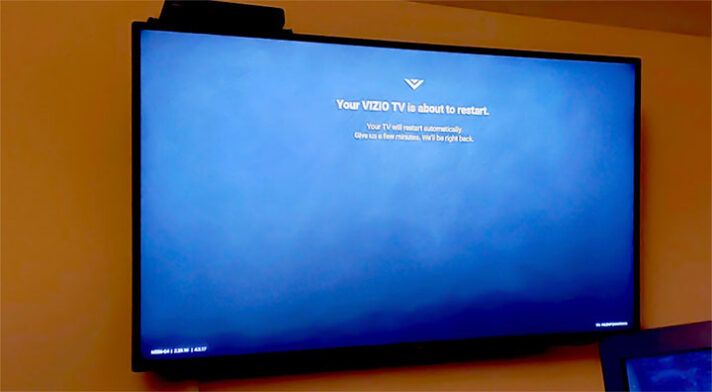 The whole thing will be in random order. So, make sure you don't miss any part.
To solve the issue, you gotta go through some specific procedures such as;
Recognize the Model
Check the power source and supply
Apply some quick fix
Hard or factory reset
Reset and Update activities
First things first, while you are having trouble with your device and you need to apply some fixes and troubleshoots, you need to be sure about the model of your device.
Because for every different device model there may be there are different troubleshoots which are functionally different. So, if you don't know the model properly, you may apply the wrong steps on the device which may significantly harm your tv or any other device.
Recognize the TV Model
Your Vizio tv may come in 5 different series, which have different functionalities.
D series
M series
V series
P series
OLED series
Each of these series has differences in troubleshooting criteria, though it got similarities. As a result, if you just apply troubleshooting that is not compatible with the model, it may occur damage.
Seemingly it may look like a pretty normal issue but in the long run, this may damage the device internally.
Check the Power Source and Supply
In case the device is connected to a faulty power outlet, the inconvenience of electricity may create some issues like not working and being stuck on logo setup screen.
Sometimes the power outlets make sparks, which is vulnerable for your device. Also sometimes fail to deliver sufficient voltage, which may cause internal damage to the circuit.
Not just the outlet, if the power cord is broken or partially internal cores are damaged, it may not supply enough electricity and make issues on your Vizio tv.
Quick Fixes
Before going to extremes, it is better to apply some easy fixes so that you can check the state of the problem.
Most commonly the Vizio tv may get stuck at its logo, screen gets frozen or black screen for reasons like software and hardware malfunctions. You gotta give it some time and some neutralization commands so that the device gets back to its base state and the problem gets fixed.
Out of nowhere, you can fix the issue by these steps;
Disconnect the power supply.
Hold the power button for 30 seconds.
Wait for 10 minutes and then turn the power on again.
Then turn the device back on with the power button.
This may clear up recent memories which will fix the issue instantly. But it is not apparent that this step will fix the trouble.
If it doesn't solve, get through the next steps we are gonna explain.
The next thing you can do is to give your Vizio Tv a hard Reset;
Vizio Tv Hard Or Factory Reset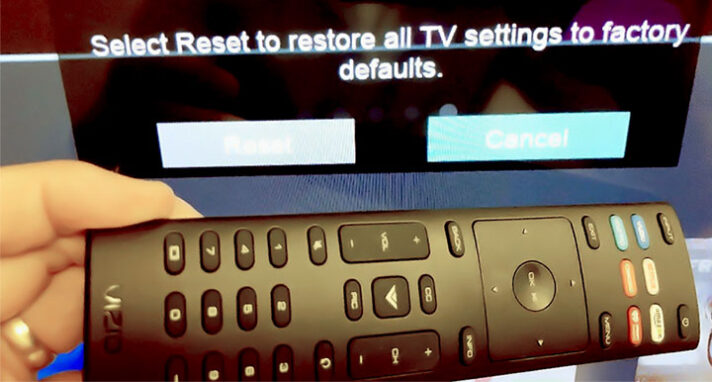 After the basic process is applied, if the tv stuck problem is not solved yet, you need to go for these steps;
Method 1:
Turn the tv off but don't disconnect the power.
Holding down both channel buttons of the tv, push and release its power button.
Press the Vizio menu on the remote.
Tv should be turned on with the menu.
You may find a factory reset button indicating F on the bottom of the screen.
After you press and hold the menu button for seconds, you may get access to the factory reset facilities.
Well, need to explain why you may go for this hard reset or factory reset procedure. Basically, nowadays devices are pretty smart and operated with AI automation. When your Vizio tv is working on some automated procedures and gets stuck for some bugs, you may spectate the type of issues we are talking about here such as your Vizio tv is stuck at smartcast, or dim screen.
In a situation like this, if you can clear up the cache and temporary memories of your device, may the bug gets cleared too.
Now are some alternative steps to your Vizio tv hard reset; Just follow these;
Method 2
After unplugging the internet router go to menu button.
First, go to system and then reset and factory default.
You will be asked for parental cored which is 0000 as default.
And finally, select reset and hit okay.
And this may solve the problem. But not all the time the debugging process goes too easily. There are some other steps and procedures too. Such as replacing the EEPROM.
Also keep in mind that, while you are going to hard reset your device, you may not try to abort in the middle of the process. This may leave the tv completely useless.
Replacement of EEPROM
Your tv has a very short-time valid Read-Only Memory, which is called Electronically Erasable Programmable Read-Only Memory. On other words, EEPROM.
The function of working on the EEPROM is similar to resetting. You just need to clear up the temporary and recent memories so that your Vizio tv gets debugged.
Hope you have heard the name of System Restore Point of windows. In case of any recent malfunction, taking the device back to a restore point may clear all the recent activities done after the restore point time.
Clearing the EEPROM may work similarly. It deletes the internal caches and temporary files that are stored and made conflicts with the boot.
As soon as the EEPROM is cleared, the system is debugged and the boot loop is released.
Basically, the EEPROM of your Vizio tv saves certain states of a given or pointed time. You have to get an EEPROM compatible with your TV model and replace it. You may find it on the back of the tv as the 5mm chip. All you need to do is, buy a new chip and replace it with the previous one. This will solve the issue.
OS or Firmware Upgrading
A large scale of users around there who are even not even willing to update their tv os and firmware. This seemingly looks like usual but in terms of long-time use non updated OS becomes incapable of running late-quality streaming and the system gets broken. In the meantime, you encounter situations like the tv may get stuck at one channel, logo, or any freeze screen. Which may be compared to a hang situation of your old phone.
In this kinda situation, you may find the device is being laggy for some days and then suddenly strong lag or hang situation or at a moment stuck at the setup screen.
Whatever, if your tv is connected to an active internet connection, it may continue its updating process in the background automatically. If your tv is stuck on the logo screen and suddenly taking an update, be sure that this is gonna be fixed once the update is done.
No more about pulling a conclusion. If you encounter an issue, you first need to visualize the problem and apply the fix to it. Do not try to be too extreme which may create damage to the whole procedure.
While replacing parts, it is highly recommended to use authentic parts from Vizio providers. Cheaper and third-party replacement parts may damage your machine internally. Hope you are now aware of the issue and know what to do while this trouble occurs.
The issues with your Vizio tv we have included here are not the all, there may be other situations like this. As it is programmable software-based trouble, it should have different other variants. Maybe your Vizio tv would get stuck at Netflix logo, or any channel, dim the screen, black the whole screen, or screen freeze. Situations look different but they have a very similar root so the fixes we have stated will be completely applicable.
That's all about it, but if it is not solved yet, you should be calling the official Vizio Service center and ask for expert help.
More Troubleshooting Guide on TV: